Thursday, September 03, 2015
Thursday, August 08, 2013
The Foundational Questions Institute (FQXi) 2nd International Conference in Ponta Delgada, Azores. July 7-12, 2009. Topics include cosmology, astrophysics, gravity, quantum gravity, quantum theory, and high-energy physics. http://www.fqxi.org/
The Meduso-Anthropic Principle is a speculative theory by Louis Crane (1994). The theory develops Cosmological natural selection by leading cosmologist, Lee Smolin and suggests the development of the universe is similar to the development of Corals and Jellyfish. The Medusa generations alternate with Polyp generations. Similarly it is suggested, the Universe develops Intelligent life and Intelligent life produces new Baby universes. Our universe may also exist as a Black hole in a Parallel universe. Extraterrestrial life there may have created that black hole.
Bringing the Heavens down to Earth

If mini black holes can be produced in high-energy particle interactions, they may first be observed in high-energy cosmic-ray neutrino interactions in the atmosphere. Jonathan Feng of the University of California at Irvine and MIT, and Alfred Shapere of the University of Kentucky have calculated that the Auger cosmic-ray observatory, which will combine a 6000 km2 extended air-shower array backed up by fluorescence detectors trained on the sky, could record tens to hundreds of showers from black holes before the LHC turns on in 2007......Thus, hypothetically, the energy required to produce black holes is well within the range of the LHC, making it a "black-hole factory". As Stephen Hawking has taught us, these mini black holes would be extremely hot little objects that would dissipate all their energy very rapidly by emitting radiation and particles before they wink out of existence. The properties of the Hawking radiation could tell us about the properties of the extra spatial dimensions, although there are still uncertainties in the theory at this stage. See: here
We have been assured black hole production can be quite safe so we can deal with the idea that such production quickly dissipates on the level with which we would and can make them?:) So the level at which such an idea is presented would of course be as suggested as to say that this universe in all it's ability is at the level with which we can make black-holes useful? Black holes of sufficient size.:) I find that really interesting, just because we are here.
See Also
:
Sunday, September 23, 2012
We argue that the following three statements cannot all be true: (i) Hawking radiation is in a pure state, (ii) the information carried by the radiation is emitted from the region near the horizon, with low energy effective field theory valid beyond some microscopic distance from the horizon, and (iii) the infalling observer encounters nothing unusual at the horizon. Perhaps the most conservative resolution is that the infalling observer burns up at the horizon. Alternatives would seem to require novel dynamics that nevertheless cause notable violations of semiclassical physics at macroscopic distances from the horizon. Black Hole: Complementarity vs Firewall
This lecture presents some particular thoughts that rang a bell for me in terms of what reporting was done here earlier on the thought experiments by Susskind on how one may interpret information gained by the process of entanglement to an observer outside the black hole.
Also See:
Where Susskind leaves off, Seth Lloyd begins
Various neutron interferometry experiments demonstrate the subtlety of the notions of duality and complementarity. By passing through the interferometer, the neutron appears to act as a wave. Yet upon passage, the neutron is subject to gravitation. As the neutron interferometer is rotated through Earth's gravitational field a phase change between the two arms of the interferometer can be observed, accompanied by a change in the constructive and destructive interference of the neutron waves on exit from the interferometer. Some interpretations claim that understanding the interference effect requires one to concede that a single neutron takes both paths through the interferometer at the same time; a single neutron would "be in two places at once", as it were. Since the two paths through a neutron interferometer can be as far as

5 cm

to

15 cm

apart, the effect is hardly microscopic. This is similar to traditional double-slit and mirror interferometer experiments where the slits (or mirrors) can be arbitrarily far apart. So, in interference and diffraction experiments, neutrons behave the same way as photons (or electrons) of corresponding wavelength. See: Complementarity (physics)
See Also
:
Monday, September 05, 2011
Plato likened our view of the world to that of an ancient forebear watching shadows meander across a dimly lit cave wall. He imagined our perceptions to be but a faint inkling of a far richer reality that flickers beyond reach. Two millennia later, Plato's cave may be more than a metaphor. To turn his suggestion on its head, reality—not its mere shadow—may take place on a distant boundary surface, while everything we witness in the three common spatial dimensions is a projection of that faraway unfolding. Reality, that is, may be akin to a hologram. Or, really, a holographic movie.

The journey to this peculiar possibility combines developments deep and far-flung—insights from general relativity; from research on black holes; from thermodynamics, quantum mechanics, and, most recently, string theory. The thread linking these diverse areas is the nature of information in a quantum universe.
Physicists Jacob Bekenstein and Stephen Hawking established that, for a black hole, the information storage capacity is determined not by the volume of its interior but by the area of its surface. But when the math says that a black hole's store of information is measured by its surface area, does that merely reflect a numerical accounting, or does it mean that the black hole's surface is where the information is actually stored? It's a deep issue and has been pursued for decades by some of the most renowned physicists. The answer depends on whether you view the black hole from the outside or from the inside—and from the outside, there's good reason to believe that information is indeed stored at the event horizon. This doesn't merely highlight a peculiar feature of black holes. Black holes don't just tell us about how black holes store information. 
Black holes inform us about information storage 
in any context. See:Our Universe May Be a Giant Hologram
See Also
:
Physics and Philosophie
Pay attention too, #8. (And Stefan submits: What is the ontological status of AdS/CFT?)[also pay attention to comments relating to #8]
Friday, February 13, 2009
AS with Einstein, who was Socrates daemon?:)

In Plato's Apology of Socrates, Socrates claimed to have a daimonion (literally, a "divine something")[6] that frequently warned him - in the form of a "voice" - against mistakes but never told him what to do
See:
Fullerane and Allotropes
Some may even call "hills" mountains. Depends on where they think perspective is heighten in relation to where they see themself in the world, and where a better locations allows for a more expansive views of things. This is psychologically important to realize that inherent inside of us if one does follow the tenet of Know Thyself by Socrates. Such a plan would have been understood in the examination to see a relationship in continuity is topologically important with the world around them. Not be self-centred, but to move progressively in the world may call for understanding this relationship with the environment.
What shall proceed the understanding that the arche is fully understood as the central themes of characters, to see it exemplified in how you now approach the world in your own way? It becomes easier for you to understand, that this "imprint of the concrete in the painting I had selected of the Raphael" was to show such a school of thought, was exemplifying the truer principle of the wisdom seeking, while of course approaching the modern day world based on that Socratic method in science.
But I only show by example, and recognizing this facet of the nature of the individual is more the idea that what ever method you choose that it is consistent and recognizable, becomes second nature to the person seeking answers. Student of Science or Philosophy.
Death of Socrates by Jacques David

this picture depicts the closing moments of the life of Socrates. Condemned to death or exile by the Athenian government for his teaching methods which aroused scepticism and impiety in his students, Socrates heroicly rejected exile and accepted death from hemlock.
Self portrait of
Jacques-Louis David
, 1794, Musée du Louvre
Here the philosopher continues to speak even while reaching for the cup, demonstrating his indifference to death and his unyielding commitment to his ideals. Most of his disciplines and slaves swirl around him in grief, betraying the weakness of emotionalism. His wife is seen only in the distance leaving the prison. Only Plato, at the foot of the bed and Crito grasping his master's leg, seem in control of themselves.
See
:
Jacques-Louis David: The Death of Socrates
I think the idea is and can be unique, in that each can develop a process and means to an end( many travel far and wide while they should have never left home), that would allow this creative aspect of being "in the now" has potential. To be able to allow insight to manifest and spread across the mind in such lightning speed. It thusly leaves no doubt. This is a condensible feature of the complexity of information to be distill to it's essence. IN an abstract world, a rain drop can hold quite an lot of architectural meaning.
For Plato then it was the ideal city-state of Kallipolis
The Philosopher King
Plato defined a philosopher firstly as its eponymous occupation – wisdom-lover. He then distinguishes between one who loves true knowledge as opposed to simple sights or education by saying that a philosopher is the only man who has access to Forms – the archetypal entities that exist behind all representations of the form (such as Beauty itself as opposed to any one particular instance of beauty). It is next and in support of the idea that philosophers are the best rulers that Plato fashions the ship of state metaphor, one of his most often cited ideas (along with his allegory of the cave). "[A] true pilot must of necessity pay attention to the seasons, the heavens, the stars, the winds, and everything proper to the craft if he is really to rule a ship" (The Republic, 6.488d). Plato claims that the sailors (i.e., the people of the city-state over whom the philosopher is the potential ruler) ignore the philosopher's "idle stargazing" because they have never encountered a true philosopher before.
Stargazers
by Paul Rossetti Bjarnson, Pg 102, Chapter XV
***
Ever teacher has their progeny of students as has been exemplified in the context of our modern day scholars. Kip Thorne in relation to
John Archibald Wheeler
.
Stephen Hawking
and his doctoral students.
Dennis William Siahou Sciama
FRS (November 18, 1926–December 18, 1999) was a British physicist who, through his own work and that of his students, played a major role in developing British physics after the Second World War.
Sciama also strongly influenced Roger Penrose, who dedicated his The Road to Reality to Sciama's memory. The 1960s group he led in Cambridge (which included Ellis, Hawking, Rees, and Carter), has proved of lasting influence.
I have already established
this lineage and subsequent comments in relation to Penrose
under this heading to exemplify the relationship and perspective in relation to each other externally in the progressive nature of moving forward in science.
***
For Plato, it is no less an important feature that at Socrates bedside he sees the wisdom of his teacher become the "guiding light source" of all that must exchange between those who hold a value to "dimensional significance in abstract" in our current day, would be able to see the world in a most significant way. It's no less progressive then, that such an example was given to an extent that the thought process of the Gendankin, would be set before Plato's own students, as John Wheeler did for his, to see that Aristotle is most selectively announced as a most brilliant student by answering to Plato's analogy of the Cave. Who becomes an extension of the "arche in principle" as one end being science, and in a open sweeping hand, to all that is for ever exemplify in the "arche contained" in the heading of this blog above.
Plotinus
Plotinus
(Greek: Πλωτῖνος) (ca. AD 204–270) was a major philosopher of the ancient world who is widely considered the founder of Neoplatonism (along with his teacher Ammonius Saccas). Much of our biographical information about him comes from Porphyry's preface to his edition of Plotinus' Enneads.
Plotinus Theory
Plotinus taught that there is a supreme, totally transcendent "One", containing no division, multiplicity or distinction; likewise it is beyond all categories of being and non-being. The concept of "being" is derived by us from the objects of human experience called the dyad, and is an attribute of such objects, but the infinite, transcendent One is beyond all such objects, and therefore is beyond the concepts that we derive from them. The One "cannot be any existing thing", and cannot be merely the sum of all such things (compare the Stoic doctrine of disbelief in non-material existence), but "is prior to all existents". Thus, no attributes can be assigned to the One. We can only identify it with the Good and the principle of Beauty. [I.6.9]

For example, thought cannot be attributed to the One because thought implies distinction between a thinker and an object of thought (again dyad). Even the self-contemplating intelligence (the noesis of the nous) must contain duality. "Once you have uttered 'The Good,' add no further thought: by any addition, and in proportion to that addition, you introduce a deficiency." [III.8.10] Plotinus denies sentience, self-awareness or any other action (ergon) to the One [V.6.6]. Rather, if we insist on describing it further, we must call the One a sheer Dynamis or potentiality without which nothing could exist. [III.8.10] As Plotinus explains in both places and elsewhere [e.g. V.6.3], it is impossible for the One to be Being or a self-aware Creator God. At [V.6.4], Plotinus compared the One to "light", the Divine Nous (first will towards Good) to the "Sun", and lastly the Soul to the "Moon" whose light is merely a "derivative conglomeration of light from the 'Sun'". The first light could exist without any celestial body.
While the arche then becomes a understanding and significant addition to ever place that self evident becomes real for the individual then how is it that such an relation cannot be seen in the world as a foundation principle to guarantee that they are on the right track. To see that "correlation of cognition" places a role in the factual attainment of information. No matter how insignificant or trivial the relation, as common knowledge, it becomes a reinforcing measure of how one is adapting and applying this model, which allows confidence to be built in pursuance of knowledge and truth.
Wednesday, March 26, 2008
W

hat good is a universe without somebody around to look at it?




Robert Dicke
John Archibald Wheeler
(born July 9, 1911)
is an eminent American theoretical physicist. One of the later collaborators of Albert Einstein, he tried to achieve Einstein's vision of a unified field theory. He is also known as the coiner of the popular name of the well known space phenomenon, the black hole.
There is always somebody who is the teacher and from them, their is a progeny. It would not be right not to mention John Archibald Wheeler. Or not to mention some of his students.
Notable students
Demetrios Christodoulou
Richard Feynman
Jacob Bekenstein
Robert Geroch
Bei-Lok Hu
John R. Klauder
Charles Misner
Milton Plesset
Kip Thorne
Arthur Wightman
Hugh Everett
Bill Unruh
COSMIC SEARCH

: How did you come up with the name "black hole"?



John Archibald Wheeler

:It was an act of desperation, to force people to believe in it. It was in 1968, at the time of the discussion of whether pulsars were related to neutron stars or to these completely collapsed objects. I wanted a way of emphasizing that these objects were real. Thus, the name "black hole".

The Russians used the term frozen star—their point of attention was how it looked from the outside, where the material moves much more slowly until it comes to a horizon.* (*Or critical distance. From inside this distance there is no escape.) But, from the point of view of someone who's on the material itself, falling in, there's nothing special about the horizon. He keeps on going in. There's nothing frozen about what happens to him. So, I felt that that aspect of it needed more emphasis.
It is important to me to understand some of the history of the Blackhole, and the students who went on to develop the very ideas around them. To see how they interconnect at one time or another, to provide for the very insights from such gatherings.
Stephen Hawking's says
:
"Roger Penrose and I worked together on the large scale structure of space and time, including singularities and black holes. We pretty much agree on the classical theory of theory of relativity but disagreements began to emerge when we got into quantum gravity. We now have different approaches to the world, physical and mental. Basically, he is a Platonist believing that's there's a unique world of ideas that describes a unique physical reality. I on the other hand, am a positivist who believes that physical theories are just mathematical models we construct, and it is meaningless to ask if they correspond to reality; just whether they predict observations."
( Chapter Six-

The Large, the Small and the Human Mind-

Roger Penrose-Cambridge University Press-1997)

See
: Phil Warnell's
comment
.
Black hole information paradox
Whereas Stephen Hawking and Kip Thorne firmly believe that information swallowed by a black hole is forever hidden from the outside universe, and can never be revealed even as the black hole evaporates and completely disappears,

And whereas John Preskill firmly believes that a mechanism for the information to be released by the evaporating black hole must and will be found in the correct theory of quantum gravity,

Therefore Preskill offers, and Hawking/Thorne accept, a wager that:

When an initial pure quantum state undergoes gravitational collapse to form a black hole, the final state at the end of black hole evaporation will always be a pure quantum state.

The loser(s) will reward the winner(s) with an encyclopedia of the winner's choice, from which information can be recovered at will.

S

tephen W. Hawking, Kip S. Thorne, John P. Preskill


Pasadena, California, 6 February 1997
Drawing Credit: XMM-Newton, ESA, NASA-Image sourced from:
Pictured above is an artist's illustration of a black hole surrounded by an accretion disk.
The black hole Information Paradox results from the combination of quantum mechanics and general relativity. It suggests that physical information could "disappear" in a black hole. It is a contentious subject since it violates a commonly assumed tenet of science—that information cannot be destroyed. If it is true, then cause and effect become unrelated, and nothing science knows, not even our memories, can be trusted.
Before the Big Bang
Professor Sir Roger Penrose
, OM, FRS (born 8 August 1931)
Before the Big Bang
Three Different Views of Quantum Weirdness
(and What It Means)

A: According to the orthodox view of quantum mechanics, called the Copenhagen interpretation, a system (represented here by a child's block) does not occupy a definite state or location until it is measured. Before then it is just a blur of overlapping possibilities.

B: The many worlds interpretation insists that the system occupies all its possible states but that every one of them exists in its own alternate universe. Each universe sees one state only, which is why we never observe the block in two states at once.

C: In Penrose's interpretation, gravity holds our reality together. In each potential state, the block generates a separate gravitational field. Over time, the energy required to maintain these multiple fields causes the block to settle into one state only—the one that we observe.
See
:
If an Electron Can Be in Two Places at Once, Why Can't You-by Tim Folger, Photograph by David Berry, Illustrations by Don Foley
?
"
In Penrose's interpretation, gravity holds our reality together. In each potential state, the block generates a separate gravitational field.....
," rings with a certain importance when one talks about what happens with the very nature of the blackhole. What happens to that information.
Phil Warnell
:
However, if the second is taken as truth and all is remembering, then what can the force of gravity do to a memory that is not in any, yet of all?
I tried to implement a method by which one could "gauge the significance of the emotive experience" as it may pertain to that "primitive part" of our nature. That we could see "remembering" had been assigned a "quantum reductionist state" within the confines of that methodology?
See
:
Quantum State reduction as a real phenomenon
by Roger Penrose (Oxford)2 Sep 1999
"The block," while holding different gravitational defined consciousness states, had to settle to a strong emotive consolidating force from that experience. You repeatedly relive the experience, while current information saids that the memory can change
.
See Ledoux.
See
:
Dennis William Sciama
Tipping LightCones and Escape Velocity of the Photon
What is Happening at the Singularity?
Science and the Mind: Sir Roger Penrose
Big Bang:One Man's Change of Heart
Tuesday, March 25, 2008
Dennis William Siahou Sciama
FRS (November 18, 1926–December 18, 1999) was a British physicist who, through his own work and that of his students, played a major role in developing British physics after the Second World War.
Sciama also strongly influenced Roger Penrose, who dedicated his The Road to Reality to Sciama's memory. The 1960s group he led in Cambridge (which included Ellis, Hawking, Rees, and Carter), has proved of lasting influence.

Sciama was elected a Fellow of the Royal Society in 1982. He was also an honorary member of the American Academy of Arts and Sciences, the American Philosophical Society and the Academia Lincei of Rome. He served as president of the International Society of General Relativity and Gravitation, 1980-84.

In 1959 he married Lidia Dina, a social anthropologist, who survived him, along with their two daughters.
Alma mater
University of Cambridge
Doctoral advisor
Paul Dirac
Doctoral students
John D. Barrow
George Ellis
Gary Gibbons
Stephen Hawking
Martin Rees
David Deutsch
Brandon Carter
It was important that I understood the context of the entry by Phil Warnell.
Phil
:
However, if the second is taken as truth and all is remembering, then what can the force of gravity do to a memory that is not in any, yet of all? So if all were to collapse would the memory not persist, since it is not of what vanished.

Strangely, Hawking proved it so and yet he still denies his mentor who advised not only that it would be so, yet why
Saturday, March 10, 2007
The Navier-Stokes equations

A bubble is a minimal-energy surface
The Navier-Stokes equations, named after Claude-Louis Navier and George Gabriel Stokes, are a set of equations that describe the motion of fluid substances such as liquids and gases. These equations establish that changes in momentum in infinitesimal volumes of fluid are simply the product of changes in pressure and dissipative viscous forces (similar to friction) acting inside the fluid. These viscous forces originate in molecular interactions and dictate how viscous a fluid is. Thus, the Navier-Stokes equations are a dynamical statement of the balance of forces acting at any given region of the fluid.
In educating myself I learnt to trust my intuition when it comes to defining the basis of "new physics" that was to emerge. As well as, the new particle manifestation that would arise from "specific points" on interaction. What was suppose to be our starting point. This is really difficult for me to put into words, yet, if you knew that there was a "change over/cross over point" and how was this defined? It seemed to me, we had to have a place that would do this.
A more fundamental property than the disappearance of viscosity becomes visible if superfluid is placed in a rotating container. Instead of rotating uniformly with the container, the rotating state consists of quantized vortices. That is, when the container is rotated at speed below the first critical velocity (related to the quantum numbers for the element in question) the liquid remains perfectly stationary. Once the first critical velocity is reached, the superfluid will very quickly begin spinning at the critical speed. The speed is quantized - i.e. it can only spin at certain speeds.
"Nothing" is difficult to talk about, and "empty space" is not really empty. So to think "nothing" is a very hard one for me to grasp. If one thinks about what "sprang into being" I of course had to find this "place of traversing" from "one state of being" to another. What things help us to define the nature of that point?
Example of the viscosity of milk and water. Liquids with higher viscosities will not make such a splash.


Viscosity is a measure of the resistance of a fluid to deform under shear stress. It is commonly perceived as "thickness", or resistance to flow. Viscosity describes a fluid's internal resistance to flow and may be thought of as a measure of fluid friction. Thus, water is "thin", having a lower viscosity, while vegetable oil is "thick" having a higher viscosity. All real fluids (except superfluids) have some resistance to shear stress, but a fluid which has no resistance to shear stress is known as an ideal fluid or inviscid fluid (Symon 1971).
I used the question mark not to befuddle those that read here or sanction any post to some idea about what the title following with a question mark, is worth so many points on the "flowery scale."
On the other hand, gravity in the form of curved space would permeate the whole bulk of the higher dimensional spacetime ….

Stephen Hawking

1
I shall have to define "flowery scale" sometime, but I would rather not give any credit to those who hold a position in science who have categorize people according to that same point system. Oh and please, do not consider the flowers less then what I hold as of high value in these "maturations" to be thought less then either.
While we had been witness to the collider experiments we were also quite aware that that such events had to be taking place with earth, from event sources released in space.
Relativistic Fluid Dynamics: Physics for Many Different Scales
-
Nils Andersson
In writing this review, we have tried to discuss the different building blocks that are needed if one wants to construct a relativistic theory for fluids. Although there are numerous alternatives, we opted to base our discussion of the fluid equations of motion on the variational approach pioneered by Taub [108] and in recent years developed considerably by Carter [17, 19, 21]. This is an appealing strategy because it leads to a natural formulation for multi-fluid problems. Having developed the variational framework, we discussed applications. Here we had to decide what to include and what to leave out. Our decisions were not based on any particular logic, we simply included topics that were either familiar to us, or interested us at the time. That may seem a little peculiar, but one should keep in mind that this is a "living" review. Our intention is to add further applications when the article is updated. On the formal side, we could consider how one accounts for elastic media and magnetic fields, as well as technical issues concerning relativistic vortices (and cosmic strings). On the application side, we may discuss many issues for astrophysical fluid flows (like supernova core collapse, jets, gamma-ray bursts, and cosmology).

In updating this review we will obviously also correct the mistakes that are sure to be found by helpful colleagues. We look forward to receiving any comments on this review. After all, fluids describe physics at many different scales and we clearly have a lot of physics to learn. The only thing that is certain is that we will enjoy the learning process!
Spacetime Curvatures
Flat space time? The thought there are strong gravitational forces at work and where are these located? Can there "be" amidst this strong curvature, the idea that a super fluid born, would have a place where a
state of inertia
could exist? I thought quickly of what happens when the blackhole collapses and what could come of it?
Of course this concept of inertia is strong in my mind but would need better clarifications as I am relaying it here in this circumstance.
But looking for these locations in Lagrangian views of the Sun Earth relation, it seemed viable to me that such a state could have gone from a very strong gravitational inclination( our suns, increase temperatures of the collapsing blackhole) to one that is "very free" and "not flat" but would allow information both ways(from before to now) to be traversed, as if in a jet or cylinder. So that the space around it would be expression not only the earlier constituents of the universe before this translation but manifest into the new physics with which would motive this universe, new particle manifestation, from what did not exist before.
1
The Universe in a Nutshell
, by Stephen Hawking. Bantam Books, ISBN 0-553-80202-X-Chapter 7, Page 181
Wednesday, December 06, 2006

Mars in 6 weeks? And back in a total of four months? That's the prediction of a design team working on antimatter rocket concepts at Pennsylvania State University. But first, you have to get the stuff - and store it. (PSU)
The popular belief is that an antimatter particle coming in contact with its matter counterpart yields energy. That's true for electrons and positrons (anti-electrons). They'll produce gamma rays at 511,000 electron volts.

But heavier particles like protons and anti-protons are somewhat messier, making gamma rays and leaving a spray of secondary particles that eventually decay into neutrinos and low-energy gamma rays.

And that is partly what Schmidt and others want in an antimatter engine. The gamma rays from a perfect reaction would escape immediately, unless the ship had thick shielding, and serve no purpose. But the charged debris from a proton/anti-proton annihilation can push a ship.

"We want to get as close as possible to the initial annihilation event," Schmidt explained. What's important is intercepting some of the pions and other charged particles that are produced and using the energy to produce thrust."
So our history here in this blog has detailed how we see the issues of "collision processes developed(Cern), that we may now see the cosmological playground teaming with the opportunities to produce this "stuff" that would send our spaceships to Mars?
The extension of the thinking of experimental development, has allowed us to think of "what is possible" and what this propulsion system can do, as we make our way into the new territories? As we set sail our ships, searching for those new lands.

A Penn State artist's concept of n antimatter-powered Mars ship with equipment and crew landers at the right, and the engine, with magnetic nozzles, at left.
Of course "storage" is always a troubling issue here so they developed what is call the Penning Trap. But it is not without some insight that our geometrical understanding developed in the events in the cosmos, could not be transformed in that same geometrical sense to propel those ships?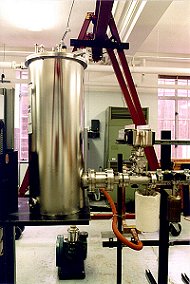 This "Penning trap" developed at Penn State University stores antiprotons.

It sounds like science fiction, but researchers are learning to create and store small amounts of antimatter in real-life labs. A portable electromagnetic antimatter trap at Penn State University, for example, can hold 10 billion antiprotons. If we could learn how to use such antimatter safely, we could impinge some on a thin stream of hydrogen gas to create thrust. Alternatively, a little antimatter could be injected into a fusion reactor to lower the temperatures needed to trigger a fusion reaction.
So you ask how is that possible?
The gravitational collapse sets up the very ideas for us as we make use of that "propulsion system" to move that space ship. So in a sense, "the collider process" at Cern is a gigantic model of what we want in the developmental process as the new engine of our spaceship.

A schematic of the heart of a Penning trap where a cloud of antiprotons (the fuzzy bluish spot) is kept cold and quiet by liquid nitrogen and helium and a stable magnetic field. (PSU)
Anti-protons, explained Dr. Gerald Smith of Pennsylvania State University, can be obtained in modest quantities from high-energy accelerators slamming particles into solid targets. The anti-protons are then collected and held in a magnetic bottle
.
While previously
here
I have spoken about how we may use Susskind's thought experiment as a monitoring system of gravitational considerations, it is also this thought process that helps us adjust the ship according to how much thrust is needed in face of the lagrangian views we encounter in star systems?
However, by using "matter/antimatter annihilation", velocities just below the speed of light could be reached, making it possible to reach the next star in about six years.
I think Stephen Hawking is going to have to work faster, in order to elucidate his thoughts on this travel. That while I may have started this lesson from the idea of 1999, it is much more advanced then many had understood. The "experimental process" of Cern is much greater then most of us had realized.
Also there is a developmental "thought pattern" that needs to be understood as we speak about how such a geometrics could have been seen underneath the very structures of our realities. Not only within the cosmos at large but in the dynamical processes of the quantum world.
Angels and Demons
Cern IMagery takes a "dramatic position" on what it is saying about itself? :) I would like to think that the fun is in how "mirror world" has somehow been transposed into what we know of the develpmental processes we are given as we now lok at what may help us move into the cosmos.
If as a society we were "uncultured" we might have thought the tribal influence of the "bad side" of all things? But in that exploratory sense al the tidbits had to add up to something, yet without our understanding of what lies beneath, one might have never gone "past" Robert Mclaughlin, to realize, the geometrical nature that imbues the process we are developing.
This was Riemann lesson to Gauss in his thesis, who like his student had thought for sure "vision capable now," would also have been transferred into a "whole new world" of understanding of the non euclidean geometries.
What do they say about the devil being in the details?
Plato
:
This image had horns drawn on it, with a tail attached. Something about "angels and demons?" I don't think we should take the "anti" too literal in face of an outcome, or should we?
It's about how we can take a legitimate process and build ideas on it, according to the very nature of the "negative and positive expressions" of what Riemann set out to do.
ON a large scale, we see the dynamics of this process, yet failed to see it work at a microcosmic sense as we deal with the colliders? As we move forward in the propulsion systems, it is importance how we see this developmental process take on dynamic views.
Sunday, December 03, 2006
Stephen Hawking
:
However, by using "matter/antimatter annihilation", velocities just below the speed of light could be reached, making it possible to reach the next star in about six years.
While I presented the "
break through in propulsion system
" used for space travel by explaining the ideas behind Susskind's "thought experiment." It is with that thinking, one can go back and re-assess what we had thought about "time travel" and such?
Some say it is like conscience effort of reflection? That we go back to the "memory reservoir (where is it-a space between the neurons?)" a "QFT realization" and drag it back up from the field to focalized surface awareness imaging, as some feature of this "time travel scenarion" currently being talk about in spacetime geometrics as warpage? As "an analogy" of the "negative aspect" of conscience?
What is this Inductive/deductive feature then of consciousness?
What is
Toposense?
A struggle between "discreteness and continuity?" On "large scale" we get "the jest" I think.
It's a problem though, when it becomes chaotic and complex. An "entropic" realization. As if "arrow of time" goes forward, then how is it memory can be retrieved? Or that what exists "in" the blackhole can be used to ascertain what is going on inside and adjust for the "gravitational attraction" outside?"
Perplexities of the theoretical mind
Is mind, the "brain organ?" Did "mind" evolve "according to" the brain organ? If this is so, then what new "appendage" is currently being developed now? What "attribute of mind" will define it?
I'm theoretically challenged. :)
Or, does mind "evolve" the brain matters? If this is so, then "mind" is ahead of the brain matters? What new appendage is formed depends on the mind's development?
It's as if there was another stage "before" the spacetime fabric? :) That the spacetime fabric is "the result."
Friday, December 01, 2006


Stephen Hawking from the University of Cambridge, one of the world's leading theoretical physicists, addresses the audience during a ceremony in Beijing, June 19, 2006. Hawking, author of the best-selling 'A Brief History of Time,' said on Thursday humans must colonise other planets in different solar systems or face extinction. (Jason Lee/Reuters)
However, by using "matter/antimatter annihilation", velocities just below the speed of light could be reached, making it possible to reach the next star in about six years.
It's just one of those things that attracts our attention as we
ponder the nature of the universe
and how our modelling may change the way we see now. What proof for such things and we look at the basis of what we had been doing and we make changes accordingly.
More modern variations of tomography involve gathering projection data from multiple directions and feeding the data into a tomographic reconstruction software algorithm processed by a computer. Different types of signal acquisition can be used in similar calculation algorithms in order to create a tomographic image. With current 2005 technology, tomograms are derived using several different physical phenomena including X-rays, gamma rays, positron electron annihilation reaction, nuclear magnetic resonance, ultrasound, electrons, and ions. These yield CT, SPECT, PET, MRI, ultrasonography, 3d-TEM, and atom probe tomograms, respectively.
It never made much sense to me as time progressed, yet, I found myself challenging the very notions of what physics and experiment leads us, and what thoughts generated, could help propel our thinking forward. Why sound? If we thought such analogies are going to serve us then why would scientists be so misleading as to say "sound is the way we think about the universe?"
Now it is something much different that I think about these things. What caused this?
A way in which one can think and see and not have noticed the universe looks much differently from adopting these views. So of course I speak about lagrangian views and gravitational influences as a much different picture of the cosmos then the one we see as we look up. Or, as how we might look at the sun. The sun's eye?
So as usual today as I move through the "bloggeries of scientists," I look at what they are displaying. The post previous to this one of my article was instigated by reading
John Baez's site
and what he had there of course sparked what had written previous on the topic of, "Megalithic carved stone balls from Scotland." Yes that was in
December of 2004
I wrote my article.
Artifacts of our thinking?
Now this morning of course I went over to Clifford's Blog, "Asymptotia" to have a look there to come to see what he had posted today.
The Antikythera Mechanism
Now considering the information about our beliefs of what transpired in our history about gears and such, how is it we could have lost sight of mechanisms like this to have to re-invent the gear?
While occasional discoveries, such as the Antikythera mechanism, have forced scientists to reassess the technology of ancient civilization, critics regard most cases of OOPArt as the result of mistaken interpretation or wishful thinking. Supporters regard them as evidence that mainstream science is overlooking huge areas of knowledge, either willfully or through ignorance.
For me it has been an interesting journey having the freedom's to explore. Try and make sense of the world. Now I am experiencing the frustrations I have about the trends towards capitalism and sociological deconstruction of those things I would think should be the basis of our social fabric "as signs" of our sisterly and brotherly of caring for each other.
Plato
:
So should we let the resistance of fear insight distrust of the media, and have good science minds disrupt by instigating false reports like the one did by Alan Sokal in regards to quantum gravity? Nice way to treat those who move up to face the challenge of a theoretical world that expects the same validation as any process?
AS if the Sokal affair wasn't enough, that one could use a computerized program to write a paper on quantum gravity? That those of us being ignorant of the process could be so easily fooled, has some how taken on a new thought here. About what String theory has done? What Peter Woit has placed in his information?
Hopefully this was not the nefarious intent of such information being divulged to the public as a speculation on "science's part" to do battle with the "evil forces of disinformation?"
Alone in the Universe
?
So left alone to ponder the nature of the universe how can we not be affected by what has been put out there by scientists for us lay people to ponder about the directions we are going. That in our own thinking now biased, we move forward?
What will become of the understanding of our nature as we explore those things with which we are not accustomed to seeing? Do we "shake the resolve to do the things we have done in a logical and developmental thinking?" To destroy what has been the leading theories toward what goal? Of course not.
But it is such things that ask us to consider the "anomalistic nature" that we delved ever further into the wonders of science and what will become of us? What may be revealed by discovering more of our history, and what is yet to be "reawakened" in our continuance forward.
We must look deeper into the "fabric of reality" that we can see the world in much different way. At first, some might have only recognized the "beauty of the cosmos" and it's natural designs. Then, some wondered what are these things that they become what they are?
So we were forced to consider a much greater dimension to the reality then what was just there on appearance. Of course we might have wondered what made these move the way they do, and again we ask ourselves, "what is the motivator behind these things." How is it we might see what drives this process?

This is a computer-rendered model of a partially telescoped nanotube with a Leonardo DaVinci manuscript as the background. In the manuscript, DaVinci considers the construction of bearings, and also the frictional forces that might be encountered in bearings and sliding surfaces. He also has a drawing of a constant force spring (a mass hanging from a cord over a pulley). A nanotube bearing may be the ultimate realization of some of DaVinci's dreams.
Sunday, November 12, 2006
After you consume "graviton in a can," you might never be the same? Brane thinking may then dominate your every view of the world. Then, it will all make sense?
Imagine while we peer deeper into the subject of the "
perfect fluid
/soup" we find that certain aspects of the reductionist work done, has indeed lead us to speculate on how the "new physics" formed through the research and understanding currently being worked in the LHC?
Is there some architectural design to the "
Degree's of Freedom
?" Why anything more then the spacetime we have come to recognize, which placed new parameters on our thinking? Moved it from the recogition of Maxwellian and Gaussian coordinates to Riemann geometries in the theory of General Relativity, to become known, as the Theory of gravity. Why "anything" more then that?

A picture of flux lines in QED (left) and QCD (right).
Although it didn't properly describe strong interactions, in studying string theory physicists stumbled upon an amazing mathematical structure. String theory has turned out to be far richer than people originally anticipated. For example, people found that a certain vibrational state of the string has zero mass and spin 2. According to Einstein's theory of gravity, the gravitational force is mediated by a particle with zero mass and spin 2. So string theory is, among many other things, a theory of gravity!
I mean how are such abstract notions in the mathematics supposed to make sense, if we can not see the logic of these formulations working in some kind of reality frame of reference?

by Jacob D. Bekenstein
TWO UNIVERSES of different dimension and obeying disparate physical laws are rendered completely equivalent by the holographic principle. Theorists have demonstrated this principle mathematically for a specific type of five-dimensional spacetime ("anti–de Sitter") and its four-dimensional boundary. In effect, the 5-D universe is recorded like a hologram on the 4-D surface at its periphery. Superstring theory rules in the 5-D spacetime, but a so-called conformal field theory of point particles operates on the 4-D hologram. A black hole in the 5-D spacetime is equivalent to hot radiation on the hologram--for example, the hole and the radiation have the same entropy even though the physical origin of the entropy is completely different for each case. Although these two descriptions of the universe seem utterly unalike, no experiment could distinguish between them, even in principle.

So we have these diagrams and thought processes developed from individuals like Jacob D. Bekenstein to help us visualize what is taking place. Gives us key indicators of the valuation needed, in order to determine what maths are going to be used? In this case the subject of Conformal Filed Theory makes itself known, for the thought process to hone in on what is going to be spoken too?
Holography encodes the information in a region of space onto a surface one dimension lower. It sees to be the property of gravity, as is shown by the fact that the area of th event horizon measures the number of internal states of a blackhole, holography would be a one-to-one correspondence between states in our four dimensional world and states in higher dimensions. From a positivist viewpoint, one cannot distinguish which description is more fundamental.

Pg 198, The Universe in Nutshell, by Stephen Hawking
So we are given the label in which to speak about the holographical ntions of what is being talked about in the case of the blackhole's horizon.

Campbell's Soup Can by Andy Warhol Exhibited in New York (USA), Leo Castelli Gallery
While it is difficult of such images to be found displayed in the bloggery here to show what Dr. Gary Horowitz is saying you get the jest when you go right to the image of the tomato soup can.
Spacetime in String Theory-Dr. Gary Horowitz, UCSB-Apr 20, 2005

This year marks the hundredth anniversary of Einstein's "miraculous year", 1905, when he formulated special relativity, and explained the origin of the black body spectrum and Brownian motion. In honor of this occasion, I will describe the modern view of spacetime. After reviewing the properties of spacetime in general relativity, I will provide an overview of the nature of spacetime emerging from string theory. This is radically different from relativity. At a perturbative level, the spacetime metric appears as ``coupling constants" in a two-dimensional quantum field theory. Nonperturbatively (with certain boundary conditions), spacetime is not fundamental but must be reconstructed from a holographic, dual theory. I will conclude with some recent ideas about the big bang arising from string theory.
Imagine containing everything we know in this can. Yet,we find that the "soup image" has somehow been translated to other factors and values that seem beyond what we know is real. Is real within the confines and boundaries, and is not evidence of the "infinities" that arise from such non containment?
So, what of the "dilation field" that accumulates, as we speak to what the photon is in the measure of Glast. High energy photon determinations that may also be the valuation of the graviton in expression, as the photon travels through these fields?
Such unification is important once we move into the bulk perspective and what we see of the 2d image of the brane, as a value, and discernation of the label of the soup can?

The ALICE TPC in its clean room, where it is undergoing commissioning of all its sectors.


One of the first cosmic-ray events recorded and reconstructed in two sectors of the TPC.
The tests use the ALICE cosmic muon trigger detector ACORDE, as well as a specially designed UV laser system, to produce tracks in the detector. Preliminary analysis of the cosmic-ray events and the laser-induced tracks indicate that the drift velocity and diffusion of electrons liberated by traversing charged particles, as well as the spatial resolution, are very close to the design values.
So here we are then, having graduated in perspective about what is real, as one may ask the sociological aspect of this whole adventure?
If such missing energy is, "not accounted for" then what happens to the graviton as it is produced and causes energy to travel with them?
For example, people found that a certain vibrational state of the string has zero mass and spin 2. According to Einstein's theory of gravity, the gravitational force is mediated by a particle with zero mass and spin 2. So string theory is, among many other things, a theory of gravity!
Friday, November 03, 2006
While some of us who had been engaged in a little prehistory examination of earliest QGP states as glast determination of high energy photons, the question, "
to Be or not to be
," how could we not ask what Professor Susskind offered up for examination under the title, "the elephant and the event horizon?"
What happens when you throw an elephant into a black hole? It sounds like a bad joke, but it's a question that has been weighing heavily on Leonard Susskind's mind. Susskind, a physicist at Stanford University in California, has been trying to save that elephant for decades. He has finally found a way to do it, but the consequences shake the foundations of what we thought we knew about space and time. If his calculations are correct, the elephant must be in more than one place at the same time.
I think there is still this far reaching philosophical question about what really started time? If "nothing" existed then how could we assume anything could arise from it?
While empirically Aristotle has lead the thinking, you know how I think don't you:) Do you see me stand apart from Aristotle?
So I resolve this question in my own mind, even if I do refer to
Gabriele Veneziano
and his introduction of what began as string theory.
How could I resolve "anything" that has been taken down to the very first microseconds, while recognizing the value of anything "underneath the guise of building blocks of matter," and have said, "that this is the theory of everything?"
It only helped us to the point of the singularity, but it is much different then a complete death. The whole time reductionistic thinking has dominated the move back in history, there were other things going on, that us simple lay people were not aware of. Maybe for some scientists too?:)

Colliding galaxies, NGC 4676, known as "The Mice" (credit: Credit: NASA, H. Ford (JHU), G. Illingworth (UCSC/LO), M.Clampin (STScI), G. Hartig (STScI), the ACS Science Team, and ESA )
The James Webb Space Telescope (JWST) is a large, infrared-optimized space telescope, scheduled for launch in 2013. JWST will find the first galaxies that formed in the early Universe, connecting the Big Bang to our own Milky Way Galaxy. JWST will peer through dusty clouds to see stars forming planetary systems, connecting the Milky Way to our own Solar System. JWST's instruments will be designed to work primarily in the infrared range of the electromagnetic spectrum, with some capability in the visible range.

JWST will have a large mirror, 6.5 meters (21.3 feet) in diameter and a sunshield the size of a tennis court. Both the mirror and sunshade won't fit onto the rocket fully open, so both will fold up and open only once JWST is in outer space. JWST will reside in an orbit about 1.5 million km (1 million miles) from the Earth.

JWST Science

The JWST science goals are divided into four themes. The key objective of The End of the Dark Ages: First Light and Reionization theme is to identify the first luminous sources to form and to determine the ionization history of the early universe. The key objective of The Assembly of Galaxies theme is to determine how galaxies and the dark matter, gas, stars, metals, morphological structures, and active nuclei within them evolved from the epoch of reionization to the present day. The key objective of The Birth of Stars and Protoplanetary Systems theme is to unravel the birth and early evolution of stars, from infall on to dust-enshrouded protostars to the genesis of planetary systems. The key objective of The Planetary Systems and the Origins of Life theme is to determine the physical and chemical properties of planetary systems including our own, and investigate the potential for the origins of life in those systems.
So again, we are being lead by science here to look ahead to what plans for the future may have influenced, or caused the decsisons they did, on another trip to refurbish the Hubble Space Telescope?
The Dark Ages of the Universe
By Abraham Loeb
What makes modern cosmology an empirical science is that we are literally able to peer into the past. When you look at your image reflected off a mirror one meter away, you see the way you looked six nanoseconds ago--the light's travel time to the mirror and back. Similarly, cosmologists do not need to guess how the universe evolved; we can watch its history through telescopes. Because the universe appears to be statistically identical in every direction, what we see billions of light-years away is probably a fair representation of what our own patch of space looked like billions of years ago.
So then I am at a loss to explain that what happened billions of years ago near the beginning of this universe, could have ever been created in this universe now? Some body may say to you, "that the beginning of time and the distance of the beginning of the universe to now, has no correlation?"
If the circumstance are to be created in our colliders, then what said that mass determinations will ever arise from our research into the HiGG's, is not relevant, to what can be created in this space and time now?
Remember, everywhere you look in the cosmos this possibility exists. The WMAP is indictive of what I am saying.
So you say, the beginning of the universe and "
the time created
" to produce the
particles of new physics
, has no correlation into how this universe came into being?
Perhaps you may like to read Stephen Hawkings perspective on the beginning of time?
The conclusion of this lecture is that the universe has not existed forever. Rather, the universe, and time itself, had a beginning in the Big Bang, about 15 billion years ago. The beginning of real time, would have been a singularity, at which the laws of physics would have broken down. Nevertheless, the way the universe began would have been determined by the laws of physics, if the universe satisfied the no boundary condition. This says that in the imaginary time direction, space-time is finite in extent, but doesn't have any boundary or edge. The predictions of the no boundary proposal seem to agree with observation. The no boundary hypothesis also predicts that the universe will eventually collapse again. However, the contracting phase, will not have the opposite arrow of time, to the expanding phase. So we will keep on getting older, and we won't return to our youth. Because time is not going to go backwards, I think I better stop now.
Saturday, July 29, 2006
Quantum Field Theory
Quantum Vacuum
:
In classical physics, empty space is called the vacuum. The classical vacuum is utterly featureless. However, in quantum theory, the vacuum is a much more complex entity. The uncertainty principle allows virtual particles (each corresponding to a quantum field) continually materialize out of the vacuum, propagate for a short time and then vanish. These zero-point vibrations mean that there is a zero-point energy associated with any quantum field. Since there are an infinite number of harmonic oscillators per unit volume, the total zero-point energy density is, in fact, infinite. The process of renormalization is usually implemented to yield a zero energy density for the standard quantum vacuum, which is defined as no excitation of field quanta, i.e., no real particles are present. In other word, the quantum vacuum is at a state of minimum energy - the ground state.

You have to be able to envision this movement in what our universe is doing. What is WMAP saying? Other events say what, in the node/anti-nodal?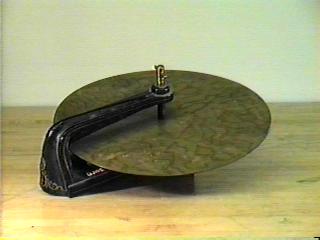 A Chladni plate consist of a flat sheet of metal, usually circular or square, mounted on a central stalk to a sturdy base. When the plate is oscillating in a particular mode of vibration, the nodes and antinodes set up form a complex but symmetrical pattern over its surface. The positions of these nodes and antinodes can be seen by sprinkling sand upon the plates;
The "quantum harmonic oscillator" and "zero point as a ground state, are the basis of my thinking. :)Energy densities. I needed a way in which to see these events unfolding in the universe. Why I look at WMAPing very seriously. Why I looked at the chaldni plate very early on.
Physically, the effect can be interpreted as an object moving from the "false vacuum" (where = 0) to the more stable "true vacuum" (where = v). Gravitationally, it is similar to the more familiar case of moving from the hilltop to the valley. In the case of Higgs field, the transformation is accompanied with a "phase change", which endows mass to some of the particles
If you look at things in this way I have covered a lot of ground work in terms of what the basis of this universe is? "Nothing," is a extremely hard thing for me to accept when I accept the quantum harmonic oscillator, as the basis of my thinking. I had to be able to describe what I was seeing. So "sound" in analogy became a very important aspect of my research. Became discriptive of what Higgin's the graviton is doing?
If you sprinkle fine sand uniformly over a drumhead and then make it vibrate, the grains of sand will collect in characteristic spots and figures, called Chladni patterns. These patterns reveal much information about the size and the shape of the drum and the elasticity of its membrane. In particular, the distribution of spots depends not only on the way the drum vibrated initially but also on the global shape of the drum, because the waves will be reflected differently according to whether the edge of the drumhead is a circle, an ellipse, a square, or some other shape.

In cosmology, the early Universe was crossed by real acoustic waves generated soon after Big Bang. Such vibrations left their imprints 300 000 years later as tiny density fluctuations in the primordial plasma. Hot and cold spots in the present-day 2.7 K CMB radiation reveal those density fluctuations. Thus the CMB temperature fluctuations look like Chaldni patterns resulting from a complicated three-dimensional drumhead that
String theory is only "topologically equivalent" to the shape and values of those events microscopically/macroscopically at a certain plac einthe unfolding universe? I learnt that the energy densities flunctuations, would give meaning to the place dynamically and geometrically speaking, to the place in time, that is unfolding. What evidence do you have for that if "Higgin's" is strong in some event places and not in others? :)
The star Eta Carina is ejecting a pair of huge lobes that form a "propeller" shape. Jet-like structures are emanating from the center (or "waist"), where the star (quite small on this scale) is located.
Yes, there are many event shapes and they are diverse. But they happen within context of a "larger false vacuum" scenario as I am explaining it, while they make their way to what is "True?"
I had to "go further" then
the microseconds
, strings inhibit?
The plates can be made visible by mounting a mirror behind the row of plates, angled so that the top of the plates are visible to the audience (same idea as in Polarization by Scattering). Create the optimum angle for the front rows, as the back rows will be looking down on the plates anyway. Make sure the cello bow is nice and tactile by treating it with rosin before the performance. Sprinkle the sand on the plates so that it forms an even cover. Don't overdo the amount.