Friday, November 04, 2011
Watch a live webcast with Brian Greene November 2 at 10pm - Watch the webcast. Hosted by The World Science Festival, Columbia University, and NOVA, this webcast will allow in-theatre and digital audiences to further explore the program's rich material in direct conversation with Greene and other featured program participants. You can ask questions in advance at the World Science Festival Facebook page.


"The Fabric of the Cosmos," a four-hour series based on the book by renowned physicist and author Brian Greene, takes us to the frontiers of physics to see how scientists are piecing together the most complete picture yet of space, time, and the universe. With each step, audiences will discover that just beneath the surface of our everyday experience lies a world we'd hardly recognize—a startling world far stranger and more wondrous than anyone expected.


Brian Greene is going to let you in on a secret: We've all been deceived. Our perceptions of time and space have led us astray. Much of what we thought we knew about our universe—that the past has already happened and the future is yet to be, that space is just an empty void, that our universe is the only universe that exists—just might be wrong.


Interweaving provocative theories, experiments, and stories with crystal-clear explanations and imaginative metaphors like those that defined the groundbreaking and highly acclaimed series "The Elegant Universe," "The Fabric of the Cosmos" aims to be the most compelling, visual, and comprehensive picture of modern phys
See:
Live Forum
***
Brian Greene, "The

Fabric

of the Cosmos:

Space

, Time, and the Texture of Reality"
Vintage | 2005 | ISBN: 0375727205 | 592 pages
One harmonious possibility is that string enthusiasts and loop quantum gravity aficionados are actually constructing the same theory, but from vastly different starting points. That each theory involves loops-in string theory, these are string loops; in loop quantum gravity, they're harder to describe non mathematically, but. roughly speaking, they're elementary loops of space-suggests there might be a connection. This possibility is further supported by the fact that on a few problems accessible to both, such as blackhole entropy, the two theories agree fully. And on the question of spacetime's constituents, both theories suggest that there is some kind of atomized structure. Page 490, Fabric of the Cosmos by Brian Greene
See Also
:
Monday, October 12, 2009
Pressure and heat melts protons and neutrons into a new state of matter - the quark gluon plasma.
Now you must know that this entry holds philosophical perspective and is the mandate of Night Light Mining Company to explore the potentials of planetary and geological data gained from scientific analysis to help the society of earth to move farther out into space, and to colonize.
Why are Planets Round
?
It is always interesting to see water in space.
Image: NASA/JPL-
Planets are round because their gravitational field acts as though it originates from the center of the body and pulls everything toward it. With its large body and internal heating from radioactive elements, a planet behaves like a fluid, and over long periods of time succumbs to the gravitational pull from its center of gravity. The only way to get all the mass as close to planet's center of gravity as possible is to form a sphere. The technical name for this process is "isostatic adjustment."

With much smaller bodies, such as the 20-kilometer asteroids we have seen in recent spacecraft images, the gravitational pull is too weak to overcome the asteroid's mechanical strength. As a result, these bodies do not form spheres. Rather they maintain irregular, fragmentary shapes.

I wanted to explore the philosophical bend first, as it sets the tone for analysis not only of the potentials of planets but of what we can gained from understanding the place of values we can set around ourselves.
Two-dimensional analogy of space–time distortion. Matter changes the geometry of spacetime, this (curved) geometry being interpreted as gravity. White lines do not represent the curvature of space but instead represent the coordinate system imposed on the curved spacetime, which would be rectilinear in a flat spacetime. See: Spacetime


Be it known then, that such universality can exist in principle around this "central core" that such equatorial measures are distinctive and related to the equatorial possibility of Inverse Square Law, that as a mathematical principle, this is brought to bear on how we solidify the substance of the elemental table, that we can say, indeed, that such values can be assigned in "refractive light" to values which are built to become "round in planetary constitution."
The life cycle of a lunar impact and associated time and special scales. The LCROSS measurement methods are "layered" in response to the rapidly evolving impact environment. See: Impact:Lunar CRater Observation Satellite (LCROSS)

It becomes an evolutionary discourse then about what began from universality "in principle" can become such a state as evident in the framework of elemental consideration, that one might say indeed that it is "this constitution" that will signify the relevance to the spacetime fabric and it's settled orbit.
See Also
:
Isostatic Adjustment is Why Planets are Round?
Centroids
Tuesday, September 11, 2007
Is Based on the short story by Lewis Padgett. It is a story about two children who find this strange box on the beach and with it begins the strange journey of discovery.
I really enjoyed this show even though it was geared for the younger set. It was one I might of watched with my Grand children. I thought last night after working quite late on the house, I needed a little R&R. My wife has gone to look after her father, and the trailer suddenly seems larger then usual without my better half. :(
Anyway there are some things within this show, even though it is fictional, are the basis of thoughts I have had about Mandalas for a lot of years now. Why I show the picture I do, from amongst the selection of other pictures you can find
here
of the Last Mimzy.
Another surprise is to find Brian Greene playing a role in this movie as well.
Brian Greene-

Columbia physicist Brian Greene inhabits a multiple-perspective landscape modeled after M.C. Escher's artwork in a scene from "The Elegant Universe," a public-TV documentary based on Greene's book

.
Amazing that something from the future can been heralded in this time. You'd almost think that information from the future was somehow being conserved and making it's way into the minds of current researchers?
The Mandalas
Finally, we also hope that this series furthers the discussion regarding the nature and function of 'the mandala'. In the spiritual traditions from which Jung borrowed the term, it is not the SYMMETRY of mandalas that is all-important, as Jung later led us to believe. It is their capacity to reveal the asymmetry that resides at the very heart of symmetry. By offering a new view about how consciousness itself is structured - in a fundamentally paradoxical fashion - and how these structurings are reflected in principles according to which the mandala is organized, we are able in this series to show how personality itself may be thought of as having an essentially 'liminocentric' design.
See also
:
The Philosophy of Death is one of Life?
Sunday, March 25, 2007
I know not how, may find their way to the minds of humanity in Some Dimensionality, and may stir up a race of rebels who shall refuse to be confined to limited Dimensionality." from

Flatland, by E. A. Abbott
It is sometimes important to know what race of rebels had been raised to realize that such a revolution in the making had started from a place of thinking that many others
began to think about as well?
Cycle of Birth, Life, and Death-Origin, Indentity, and Destiny
by Gabriele Veneziano
In one form or another, the issue of the ultimate beginning has engaged philosophers and theologians in nearly every culture. It is entwined with a grand set of concerns, one famously encapsulated in an 1897 painting by Paul Gauguin: D'ou venons-nous? Que sommes-nous? Ou allons-nous? "Where do we come from? What are we? Where are we going?"
See
here
for more information.
It is important to know where such models began to influence the idea to generate theoretical model for an apprehension of how we view this universe? Given the study at hand here are the following people for consideration.
Whence began this journey and revolution?
LEONARD SUSSKIND
:
And I fiddled with it, I monkeyed with it. I sat in my attic, I think for two months on and off. But the first thing I could see in it, it was describing some kind of particles which had internal structure which could vibrate, which could do things, which wasn't just a point particle. And I began to realize that what was being described here was a string, an elastic string, like a rubber band, or like a rubber band cut in half. And this rubber band could not only stretch and contract, but wiggle. And marvel of marvels, it exactly agreed with this formula.
I was pretty sure at that time that I was the only one in the world who knew this.
So we have to take stock of the movements that change democratic societies. To have found such governments will change and fall according to the plight of it's citizens in science. As it goes with "theoretical positions?"
Working to understand the development of the model in consideration was needed in order for one to understand why Lee Smolin methodology to work science from a historical perspective is one I favour as well. It is sometimes necessary to list these developmental phases in order to get to a position to speak with authority. Find that "with certainty" we can make certain comments? Find, we must be confronted again, to say, any progress will go from There.
The Revolution that Didn't Happen
by Steven Weinberg
I first read Thomas Kuhn's famous book The Structure of Scientific Revolutions a quarter-century ago, soon after the publication of the second edition. I had known Kuhn only slightly when we had been together on the faculty at Berkeley in the early 1960s, but I came to like and admire him later, when he came to MIT. His book I found exciting.

Evidently others felt the same. Structure has had a wider influence than any other book on the history of science. Soon after Kuhn's death in 1996, the sociologist Clifford Geertz remarked that Kuhn's book had "opened the door to the eruption of the sociology of knowledge" into the study of the sciences. Kuhn's ideas have been invoked again and again in the recent conflict over the relation of science and culture known as the science wars.
So we know where the idea of science wars began do we not? What instigates conflict as a healthy perspective to progress of the sciences. We will see the story unfold within this blog.
For some reason people might of thought my views were just held to Lee Smolin and the work that I had been accumulating with regards to his views of the Universe. While I had shown the cover of his book countless times, I would like to say that I have accumulated "other books," like those of Brian Greene as well.
Does this make me an expert on the subject in question or what ever Lee Smolin has written? Of course not.
But the work I have been doing, has not been limited to what the authors themself have given to the public in their outreach writing books. I have been at this a few years now, so I would like people to think this is not just a jaunt of journalism, that has been given to the public in it's books but has been a labour of love to understand my place in the universe.
The Elegant Universe: Superstrings, Hidden Dimensions, and the Quest for the Ultimate Theory
The Elegant Universe: Superstrings, Hidden Dimensions, and the Quest for the Ultimate Theory (ISBN 0-375-70811-1) is a book by Brian Greene published in 2000 which introduces string theory and provides a comprehensive though non-technical assessment of the theory and some of its shortcomings.

Beginning with a brief consideration of classical physics, which concentrates on the major conflicts in physics, Greene establishes an historical context for string theory as a necessary means of integrating the probabilistic world of the standard model of particle physics and the deterministic Newtonian physics of the macroscopic world. Greene discusses the essential problem facing modern physics: unification of Einstein's theory of General Relativity and Quantum Mechanics. Greene suggests that string theory is the solution to these two conflicting approaches. Greene uses frequent analogies and mental experiments to provide a means for the layman to come to terms with the theory which has the potential to create a unified theory of physics.

The Elegant Universe was adapted for a three hour program in two parts for television broadcast in late 2003 on the PBS series NOVA.
Thanks Q9 for the link to "Elegant physicist makes string theory sexy." I was going to posted it the day when you gave it to me, but instead seeing that Clifford of Asymptotia had it (same day), I thought I wouldn't. But as fate has it I must.
The Fabric of the Cosmos: Space, Time, and the Texture of Reality (2004) is the second book on theoretical physics, cosmology and string theory written by Brian Greene, professor and co-director of Columbia's Institute for Strings, Cosmology, and Astroparticle Physics (ISCAP).[1]
Greene begins with the key question: What is reality? Or more specifically: What is spacetime? He sets out to describe the features he finds both exciting and essential to forming a full picture of the reality painted by modern science. In almost every chapter, Greene introduces its basic concepts and then slowly builds to a climax, which is usually a scientific breakthrough. Greene then attempts to connect with his reader by posing simple analogies to help explain the meaning of a scientific concept without oversimplifying the theory behind it.

In the preface, Greene acknowledges that some parts of the book are controversial among scientists. Greene discusses the leading viewpoints in the main text, and points of contention in the end notes. Greene has striven for balanced treatment of the controversial topics. In the end notes, the diligent reader will find more complete explanations relevant to points he has simplified in the main text.
Once you get this view of the gravitational connection between everything, the form of graviton, you get this preview of the bulk and what lensing may mean. It is hard not to think of "dimensional perspectives in relation to the energy" describing the particles of science in some way. Witten below in his "Strings Unravel" lets you know what string theory has accomplished.
Warped Passages is a book by Lisa Randall, published in 2005, about particle physics in general and additional dimensions of space (cf. Kaluza-Klein theory) in particular. The book has made it to top 50 at amazon.com, making it the world's first successful book on theoretical physics by a female author.
See
Where are my keys
?
It's alway nice having one's own blog and nice that I can retained my dignity under the name of Plato. It keeps my personal life from being treated with disrespect at the whim of the stroke of a delete key. Of course I am willing to take my lumps understanding such a role as "older student." After being expose to the exchange between people in the tribe, it's thinking can do all kinds of damage to each other? But I would like to think that all sides remain cool to positions they hold in society
A Different Universe: Reinventing Physics from the Bottom Down by Robert B. Laughlin

From the Publisher

:
Why everything we think about fundamental physical laws needs to change, and why the greatest mysteries of physics are not at the ends of the universe but as close as the nearest ice cube or grain of salt.

Not since Richard Feynman has a Nobel Prize-winning physicist written with as much panache as Robert Laughlin does in this revelatory and essential book. Laughlin proposes nothing less than a new way of understanding fundamental laws of science. In this age of superstring theories and Big-Bang cosmology, we're used to thinking of the unknown as being impossibly distant from our everyday lives. The edges of science, we're told, lie in the first nanofraction of a second of the Universe's existence, or else in realms so small that they can't be glimpsed even by the most sophisticated experimental techniques. But we haven't reached the end of science, Laughlin argues-only the end of reductionist thinking. If we consider the world of emergent properties instead, suddenly the deepest mysteries are as close as the nearest ice cube or grain of salt. And he goes farther: the most fundamental laws of physics-such as Newton's laws of motion and quantum mechanics -are in fact emergent. They are properties of large assemblages of matter, and when their exactness is examined too closely, it vanishes into nothing.
See
Laughlin, Reductionism, Emergence
Out of all this uncertainty that exists at the level with which we think about in "those dimensions" what value any constructive diagram if it did not lead you to the understanding of the building blocks that a condense matter theorist may describe as manifesting in our reality?
The Year is 2020 and that's our Eyesight
Columbia physicist Brian Greene inhabits a multiple-perspective landscape modeled after M.C. Escher's artwork in a scene from "The Elegant Universe," a public-TV documentary based on Greene's book.
Q: Hawking has said that there could be a "theory of everything" produced in the next 20 years, or by 2020. Do you get that same sense? Or will there ever be a theory of everything?



A: Well, I always find it difficult to make predictions that are tied to a specific time frame, because as we all know, one of the exciting things about science is that you don't know when the big break is going to happen. It could happen tomorrow, it could happen 10 years from now, it could happen a century from now. So you just keep pressing on, making progress, and hope that you reach these major milestones — ideally in your own lifetime, but who knows? So I don't know if 2020 is the right number to say. But I would say that string theory has a chance of being that unified theory, and we are learning more and more about it. Every day, every week, every month there are fantastically interesting developments.

Will it all come together by 2020, where we can actually have experimental proof and the theory develops to the point that it really makes definitive statements that can be tested? I don't know. I hope so. But hope is not the thing that determines what will actually happen. It's the hard work of scientists around the world.
But anyway onto what I wanted to say and "being censored" I couldn't.
Clifford is defending his position on how Lee Smolin and Peter Woit have assigned a "perspective view" to string theory as a modelled approach. As a theoretical discovery of science, Clifford from my view, had to show that this process is still unfolding and that any quick decision as to giving String theory such a final vote of opinion from Lee Smolin was premature. I have supported Clifford in this view because of where we had been historically in the past years that the formulation of string theory has been given.
D-Branes by Clifford V. Johnson
D-branes represent a key theoretical tool in the understanding of strongly coupled superstring theory and M-theory. They have led to many striking discoveries, including the precise microphysics underlying the thermodynamic behaviour of certain black holes, and remarkable holographic dualities between large-N gauge theories and gravity. This book provides a self-contained introduction to the technology of D-branes, presenting the recent developments and ideas in a pedagogical manner. It is suitable for use as a textbook in graduate courses on modern string theory and theoretical particle physics, and will also be an indispensable reference for seasoned practitioners. The introductory material is developed by first starting with the main features of string theory needed to get rapidly to grips with D-branes, uncovering further aspects while actually working with D-branes. Many advanced applications are covered, with discussions of open problems which could form the basis for new avenues of research.
While Clifford's book I do not have, I understand that the "second revolution" was necessary to help us move to consider where string theory was to take us. It was progressing in the theoretics as a model to help us see science assuming the ways in which such models adjust us to possible new views in science. Clifford may not of liked the implication of a Grokking of a kind that would refer to consuming model approaches and then becoming what you eat?
Clifford
:
I've found that different people have different takes on what it means to have a "theory of everything". There is a popular idea (perhaps the most common) that this somehow means that this theory will describe (at least in principle) all known basic physical phenomena (constituents and their interactions, if you like) once and for all. Others mean something less ambitious, a theory that consistently describes the four fundamental forces and the things that interact with them, achieving a unification of all the forces and phenomena that we currently understand. I personally think that the first idea of a theory of everything is rather naive, and my personal hunch (and bias from what I've learned about the history of science) is that there is simply no such thing.
So of course entertaining the idea of a "theory of everything" leaves a bad taste in some peoples mouth, and having them to reason that it is the naivity of such a thought, that I immediately felt insulted. Clifford saids,"
this theory will describe (at least in principle) all known basic physical phenomena (constituents and their interactions, if you like) once and for all
" and may have been the case for those less then spending the time and effort, would have probably been insulted as I was. I of course came to recognize the positive aspect of the second position Clifford assumes.
Bench Marks of theoretical Progress
Anyway there are positions that we can take when we look back and reassess everything that we have been doing in reading the public outreach, like so called "bench marks" to see if such progressions still have have a evolutionary way to go.
Edward Witten-Reflections on the Fate of Spacetime



Unravelling String Theory




But what is string theory? It may well be the only way to reconcile gravity and quantum mechanics, but what is the core idea behind it? Einstein understood the central concepts of general relativity years before he developed the detailed equations. By contrast, string theory has been discovered in bits and pieces — over a period that has stretched for nearly four decades — without anyone really understanding what is behind it. As a result, every bit that is unearthed comes as a surprise. We still don't know where all these ideas are coming from — or heading to
See more
here
So what shall we use to measure what had first seem so abstract in Susskind's mind as a "rubber band," or the start of Veneziano views on such strings at inception? We've come a long way.
Something that I perceived back in 2004 help to "shape my views on the way I speak" "today" allows for us to consider that strings take it's rightful place within the building blocks of matter, that following Robert Laughlins lead, it was that we shifted our times from the first three seconds of Steven Weinberg, to the "First three Microseconds" of strings within the process of the unfolding universe.
The resulting collisions between pairs of these atomic nuclei generate exceedingly hot, dense bursts of matter and energy to simulate what happened during the first few microseconds of the big bang. These brief "mini bangs" give physicists a ringside seat on some of the earliest moments of creation.
See
How Particles Came to be
?
While Laughlin may have not seen the continued relevance of particle reductionism it was leading to some amazing insights. I now wonder now, if held to the comparisons of this superfluid, how it would have appealed to him? I think Witten in last plate above recognized what had to be done.
Monday, February 05, 2007

Our basic premise is that minuscule apparent violations of Lorentz and CPT invariance might be observable in nature. The idea is that the violations would arise as suppressed effects from a more fundamental theory.

We have shown in our publications that arbitrary Lorentz and CPT violations are quantitatively described by a theory called the Standard-Model Extension, which is a modification of the usual Standard Model of particle physics and Einstein's theory of gravity, General Relativity.
Symbols are important to convey what we can appreciate in "natures examples." While this image above is about clocks, it is also about "the past and the future." Which clock represents which to you?
I have been having amazing troubles with this until having looked at some of Marcia's Smilack's photography. I am not sure all my definitions are correct to hers but I have somehow seen a lot of my confusion disappear.
While reductionism was holding my mind to the compressible feature and condensible feature to the building blocks of nature, there was a much larger picture going on in discovering the "uncertainty of that micro perspective of the world" we force our minds to venture too.
For the first time, physicists appreciate the power of symmetry in their equations. When a physicist talks about "beauty and elegance" in physics, what he or she often really means is that symmetry allows one to unify a large number of diverse phenomena and concepts into a remarkably compact form. The more beautiful an equation is, the more symmetry it possesses, and the more phenomena it can explain in the shortest amount of space" Pg 76

1
It is not to nice when one does not include the "source of the writing involved" so I will have to go and look for where I took that quote from(I believe it is the Fabric of the Universe by Brian Greene, but I can't seem to locate the book for checking).
The idea here is to open this post entry with what was inherent in our actions "psychologically" could have had some basis in what we recognize of our relationship with nature. The relationship with the world around us. When are we most receptive to nature?
"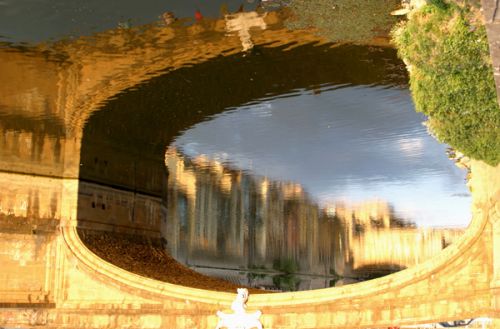 Golden Rectangle
I took the picture at a time of day when the tide was at exactly the right place to create this image: when the surface of the water reflected the underside of the bridge and they combined, together they produced what I named the Golden Rectangle as a nod to Pythagoras (my hero). The sensation I experienced at the time was of balancing consciousness and feeling.
By "bridging," a "whole picture materializes in reflection" in which we can "cross with" newly formed ideas. Had to have some basis in which the picture taken, may have a had a "greater meaning." How could it ever had made sense if you had not recognized what "the water to mean," and what the reflections cause us to recognize, as we learn to discover this wholeness within self?
"Striving" to bring "this perfection" to it's rightful place amongst the inquirers? What the resulting relation of student who takes the picture, will find as they delve into the world of what the unconscious "may represent" as it reflected from the reality onto the open water. The "past reflected" to what can manifest "toward" reality.
The future is then part of the "unconscious recognition" of what can be eventually be reflected, has some basis, before, "the past" can ever be solidified into reality?
It is important for you to see
the source of this image of the circle within circles
to understand that when you "mouse over the picture" you see how the "two pictures are used" to further my points about this interaction.
One has to follow the picture above to
finally get to the source of this picture
. It has been used to explain the process of distinguishing of explaining "the inner/outer" at any one time, while these processes could have transfixed us to one of it's particular domain.
So by completing "this circle," I had too, in some way, include the idea of "symmetry of psychological action," as I had come to instill this act of "the student/teacher within each of us." Had to gain independence by growing confidence in engaging the world. That is was necessary, to not be thwarted by the restrictions of, "being less then desired," or a "broken flower pot" on this road to discovery.
Finally, we also hope that this series furthers the discussion regarding the nature and function of 'the mandala'. In the spiritual traditions from which Jung borrowed the term, it is not the SYMMETRY of mandalas that is all-important, as Jung later led us to believe. It is their capacity to reveal the asymmetry that resides at the very heart of symmetry. By offering a new view about how consciousness itself is structured - in a fundamentally paradoxical fashion - and how these structurings are reflected in principles according to which the mandala is organized, we are able in this series to show how personality itself may be thought of as having an essentially 'liminocentric' design.
Symmetry Breaking
It was never my intent to confuse people by bring this "psychological action" to the forefront in relation to "science's measure of the statement," but to help people become aware of this relationship we have with reality. That you can "gain confidence within the self" to explore beyond the limitations of what science saids in terms of acceptable proofs and attempts at falsification." By setting the goals, in your explorations to discover "more about the world we live in" then just laying our heads to rest on "a medium" to take over. What does it mean to you?

The two clocks depicted in the official logo for the CPT '04 meeting are related by the parity transformation (P). The inversion of black and white represents charge conservation (C), while time reversal (T) is represented by the movement of the hands of the clock in opposite directions.
Sunday, October 22, 2006
Where a dictionary proceeds in a circular manner, defining a word by reference to another, the basic concepts of mathematics are infinitely closer to an indecomposable element", a kind of elementary particle" of thought with a minimal amount of ambiguity in their definition.

Alain Connes
With such a statement, the "purity of thought," is speaking to a much more schematic understanding as we discuss the sociological thinking of mathematicians and the worlds they fantasize about? While deeper in reality the thought process(meditative) was engaged at a very subtle level, associated with the energy all pervasive.
Lee Smolin
:
Another wonderful spin-off is that it turns out that the charge of the electron is related to the radius of the little circle. This should not be surprizing: If the electric field is just a manifestation of geometry, the electric charge should be, too.
THE TROUBLE WITH PHYSICS

-Published by Houghton-Mifflin, Sep. 2006/Penguin (UK), Feb. 2007, Page 46
In "Star Shine," we start from a very large circle, but there is much to see from this circle, when we consider it's radius. We think "continuity" is somehow not involved, if we freeze this circle, and call it a discrete measure of the universe's age? Yet we know to well that the motivation of this universe from a "distant point" measure today entropically lives in the multitude of complexities?
Plato
:
Model apprehension is part of the convergence that Lee Smolin and Brian Greene talk about, and without it, how could we look at nature and never consider that Einstein's world is a much more dynamical one then we had first learned from the lessons GR supplied, about gravity in our world?
On page 47 of the Trouble with Physics Lee goes on to say further down the page:
Lee Smolin
:
Unfortunately, Einstein and the other enthusiasts were wrong. As with Nordstrom's theory, the idea of unification by adding a hidden dimension failed. It is important to understand why.
If all one had was the "cosmological view" one could be very happy about the way in which his observations have been deduced from the measures of our mechanical means, that we say that GR is very well suited.
Yet it has been through th efforts of reductionism that we have said, "hey there is indeed more depth to the views we have, that the mechanical measures are being tuned accordingly?"
Juan Maldacena
:
The strings move in a five-dimensional curved space-time with a boundary. The boundary corresponds to the usual four dimensions, and the fifth dimension describes the motion away from this boundary into the interior of the curved space-time. In this five-dimensional space-time, there is a strong gravitational field pulling objects away from the boundary, and as a result time flows more slowly far away from the boundary than close to it. This also implies that an object that has a fixed proper size in the interior can appear to have a different size when viewed from the boundary (Fig. 1). Strings existing in the five-dimensional space-time can even look point-like when they are close to the boundary. Polchinski and Strassler1 show that when an energetic four-dimensional particle (such as an electron) is scattered from these strings (describing protons), the main contribution comes from a string that is close to the boundary and it is therefore seen as a point-like object. So a string-like interpretation of a proton is not at odds with the observation that there are point-like objects inside it.
While energy is being exemplified according to the nature of the particles we see in calorimetric design, what said that the energy here is not topologically smooth in it's orientations? Even we we move our views to the quantum regime.
Maybe having solved the "Continuum Hypothesis," we learned much about Einstein's inclinations?
The surface of a marble table is spread out in front of me. I can get from any one point on this table to any other point by passing continuously from one point to a "neighboring" one, and repeating this process a (large) number of times, or, in other words, by going from point to point without executing "jumps." I am sure the reader will appreciate with sufficient clearness what I mean here by "neighbouring" and by "jumps" (if he is not too pedantic). We express this property of the surface by describing the latter as a continuum.

Albert Einstein p. 83 of his Relativity: The Special and the General Theory
Even Einstein had to add the "extra dimension" so we understood what non-euclidean views meant in a geometrical sense. I again refer here to Klein's Ordering of Geometries so one understands the schematics and evolution of that geometry.
Saturday, October 21, 2006
In
"The String Saga of Star Shine"
I gave a distant measure of how we might seen any event from that time to now.
But before I begin I wanted to
link Lubos's mention of article from David G to him
, to point out the method and determinacy with which I gave the "String Saga Star Shine" it's inital point of measure "from" to our currrent infomration present in this universe now.
The Universe on a String By BRIAN GREENE
This striking pattern of convergence, linking concepts once thought unrelated, inspired Einstein to dream of the next and possibly final move: merging gravity and electromagnetism into a single, overarching theory of nature's forces.

In hindsight, there was almost no way he could have succeeded. He was barely aware that there were two other forces he was neglecting — the strong and weak forces acting within atomic nuclei. Furthermore, he willfully ignored quantum mechanics, the new theory of the microworld that was receiving voluminous experimental support, but whose probabilistic framework struck him as deeply misguided. Einstein stayed the course, but by his final years he had drifted to the fringe of a subject he had once dominated.
Low and behold we measure the "high energy in our sun" but least we remember the lower ends of the spectrum how shall we ascertain the images of the Sun if we did not include the lower measures in what we discern of the "sterile neutrino?"
Lest we forget about the "idea of convergence here" we might again refer to Lee Smolin's Book, The Trouble with Physics." Might Brian Greene be referring to the "latest debate?"
The relationship here being expounded upon, holds this principal that Lee Smolin talks about in what a new theory can do. Pastes it in our heads as I have shown the historical value of what began with "Pauli's Ghost particle" as the "now" of today, askes us to consider the value of the "sterile Neutrino" as a value in the discernation of that weak gravitational field?
Arrow of Time
?
Let's look at Kip Thornes definition of the "timeline(star shine's) history" shall we?

Dr. Kip Thorne, Caltech 01-Relativity-The First 20th Century Revolution
So here we are, fully appreciating and understanding the "measure of distance" as we look at the "new image" of the sun?
Yes, we are to include now not only the valuation of high energy dissertations here but what value we have of the immediate presence of the neutrinos from the sun. We now have a much more comprehensive view of what the sun saids to us over "this distance of time?" How we may look at the image as we look at the way the sun looks in that picture shown by JoAnne of Cosmic Variance above.
A lot of people do not understand that if you look to the cosmo, you do not just look at what is evident from observation, but that your observation is increased, as you enhance your perceptions about the "real depth" of that universe.
So the lesson here, is that the mathematics "first born to mind" is a very suttle thing, as we peer deeper into the very beginning of this universe. While Einstein did not see in the way we do now, the relevance of that distance in time, is still held to every mind to consider in GR, that the depth of perception s still needed on a quantum level.
While the point made here is "gravitational in nature," the issuance is from the "other dimensions" to now. Quantum dynamcically this has been revealled while the discrete notion has been applied to our thinking as the "oscillation factor" has been understood in the muon to electron neutrino?
So should I point to the nature spread out before us, as you look at the effect of the neutrinos on the Kamiokande screen? Other ways, that I have shown, as we look at the aurora borealis, or the rainbow in our skies?
The effect of "our reason" for such processes in physics are extremely versatile on a sociological level, that one might question indeed where such "pure thoughts in mathematics" could arise to the "symbolistic nature predating( monte carlo methods of computerization)" of that physics?
Model apprehension is part of the convergence that Lee Smolin and Brian Greene talk about, and without it, how could we look at nature and never consider that Einstein's world is a much more dyamical one then we had first learnt from the lessons GR supplied about gravity in our world?
Yes GR is still a theory, but with experimental consequences, much as the model string theory offers you, as we look at the oscillatory nature of what asymmetry provides for us, from that pure "high energy state?" Gravity, very strong, to what is weak in the measures of the neutrino characters?
I gave some pictures to consider while I continue. Some may move ahead of me if they like:) Maybe
Stefan
and Bee of Backreaction?
Tuesday, July 25, 2006
Horatiu is referring to a mathematical similarity between the physics of the real world, which govern RHIC collisions, and the physics that scientists use to describe a theoretical, "imaginary" black hole in a hypothetical world with a different number of space-time dimensions (more than the four dimensions — three space directions and time — that exist in our world). That is, the two situations require similar mathematical wrangling to analyze. This imaginary, mathematical black hole that Horatiu compares to the RHIC fireball is completely different from a black hole in the real universe; in particular, it cannot grow by gobbling up matter. In other words, and because the amount of matter created at RHIC is so tiny, RHIC does not, and cannot possibly, produce a true, star-swallowing black hole.
See
:
So how far back to the beginning, and if we had thought supersymmetry could exist, would it be in the most perfect fluid?

I place this picture and article above so that one keeps perspective about the similarites of the "micro versus the macro" perspective and "not" that the "disaster scenario" could create the "large blackhole?" But wait?

I am thinking in terms of what could create "the situations" for what is coming into being. Is it acummulative? I am not sure from the "many colldial events" that one could see happen? Hence my focus, to what not ony is created in the "collidal event," but to the cosmic particle colllsions as well. How rare are these? I speak on the "history of strangelets" from that point.

Anyway onward here.

Clifford:
Seriously his talk is all about the physics of certain type of spacetime singularites-such as the one that live's in our universe's past-and whether life can make sense of the idea of space and time coming into being after sucha singualrity, while not existing prior to that


I should start off from a quote of Clifford's of Cosmic Variance, becuase of Q's insistance in regards to the descritpions of singularities and my lacking an understanding and somewhat confusion. I thought I would do some more research here.

There are "certain assumptions" I am making and this is in regard to the a statement Clifford makes, is held as a question in my mind of what exists before anything can emerge into the spacetime? While he has called this beginning "spacetime" and reference "another state" before this, what is it? This is what holds my assumption and idea about what the singularity is doing.

Lubos Motl:
We need to get closer to the "theory of everything", regardless of the question whether the destination is a finite or infinite distance away. (And yes, the path should not be infinitely long because there is no physics "below" the Planck length.)


I place this, too support what Clifford is saying in regards to the what is emergent into the spacetime from what I understand(Strings as a building block on the road too, not as the source of this "emergent property?"). Where do all these dimensional ideas then reside? You can't ignore this, or what Lubos "is saying" about talking about the past? Everytime one's perception changes, the hisory changes too? It forces you to look at the future in a new way?

Not Newtonian

It is certainly not the Newtonian version I am thinking about. People tend to think of these as diamonds(?) or something like that as a Pea? I tend away from that thinking, because it just doesn't chive with what is tramsmitted into what "being [is] in spacetime?," if you don't have a foundation from which to work?

Call them coordinates and in it, the spactime emerges, and from that "okay" the looking at the arrow of time which implies to me a simplier supersymmetrical idea, looking back. So how did you get there? The outside/inside "quandry that stretches the mind capbailites" while chasing the "idea" as Brian Greene's Koan?

There is something to be said in how "ideas emerge from all the information gathered and accumulated" spontaneousily bursts into a new form? The mind goes through a bit of a change? See's differently. Reinmann accomplishement along with those of the geometrical forbears(shoulder's of giants) help to change how we see geometrics.

Briefly I pick up the Kurzwelian book on singularities, and find that a greate rperspective is need beyond what is espoused. A new stage in the thinking, beyond what society is thought to be headed. Some reject Kuhnian thinking but this is revolutionary to bme in what an dhow th emind proceeds in bringing down to earh the ideas that await to form in mind. Another place perhaps? A way of dipping the "toe" into the stream, and letting all that "informtaion" flow through you?


A black hole in astrophysics often has two distinct meanings. The first is the black hole in a general relativistic sense - the extreme gravitational case with a singularity in space-time - while the second is a simpler Newtonian approach: a black hole is just a point mass. While both of these meanings are used, often interchangeably, throughout the literature, it is important to remember that no astrophysical observation has yet been made that can distinguish between the two; to date, the Newtonian point mass is all we need. In the future, with better X-ray observations and a detection of gravitational waves, this may change.



First off I wrote the post Singularities should be rewritten as "a question" of what I was seeing inregards to our universe. What is in our universe's past. The reason for it's inflation. The reason for entropic valuations that become complicated and end in some chaos reasoning that Sean askes of those to solve in the Three body solution? I think this ahas already been done from what I understood so that push me towards lagragian perspective s and the other assumptions I have about this beginning and what existed before it?

Here's what I write:

Plato:
If the initial states at the beginning of the universe are to be in concert with particle reductionism, and the particle creations that I have exemplified in how particles came into being, then, the understanding of what can be transmitted through the blackhole is extremely important as a valuation of what appears over time?


So I have to say yes I am quantum characteristically driven to see this universe as it existed in a state held in our perceptions, of what it has become today. So of course I was looking back, with new knowledge of what the futre is to become. Why shouldn't it matter what help to draive this situation in the universe we have to day not hold perspectove abot what has emerged in the spacrtime as we know it?

Strominger:
The old version of string theory, pre-1995, had these first two features. It includes quantum mechanics and gravity, but the kinds of things we could calculate were pretty limited. All of a sudden in 1995, we learned how to calculate things when the interactions are strong. Suddenly we understood a lot about the theory. And so figuring out how to compute the entropy of black holes became a really obvious challenge. I, for one, felt it was incumbent upon the theory to give us a solution to the problem of computing the entropy, or it wasn't the right theory. Of course we were all gratified that it did.
Monday, April 17, 2006
"The worst disease afflicting human kind is hardening of the categories." - Artist Bob Miller.
Well I having been watching the topics of
Categorically Not
site created. I see such fine visitations by those who have ventured into the science, asking for responsibility of mind in science, be given to society on a platform, as a fine and ethical reporting/lectures, on where science/other issues, are today?
That they had ventured beyond the safe haven of science, to talk about
"intuition of a kind
", held to thoughts on subjectivity made me think.
So things less likely to be held in the role of experimental validation( and psychological modelling has learnt to bear the brunt of scorn by many science minds?) that we might like to see physical processes and evidenced to date, also, as a kind of invitation to think about the roles subjectively of modelled thought about intuition worked, revealled as common today in practise?
Peak experiences
(wikipedia 17 April 2006)
Peak experience is a term used to describe certain extra-personal and ecstatic states, particularly ones tinged with themes of unification, harmonization and interconnectedness. Participants characterize these experiences, and the relevations imparted therein, as possessing an ineffably mystical (or overtly religious) quality or essence
The question I might have placed up front here, is if such thoughts about intuition are born to what it would constitute, would one have said, a close relation to "Peak experience"? What would any consolidation of the individual represent in it's wholeness, if such an actualization moment was percieved for a short time, that such gains made by the work and study of, found it's application would have been granted in the moment of one's solitude? As one who gazed into the stream, or one who found in such a place that would help the mind in its efforts to raised the packet from the probability of all possibilties, as an enlightening moment?
From whence would all such idealizations emerge, that such an tonality of thought would embrace itself as a self actualized moment in the connection to the value of all probabilites with this peak moment? The probability of all things needed a resource and commonality from which all minds could draw some comparison. Where was this moment of recognition? A harmonical Oscillator of a kind, possibly? The basis of all reality existed in some form self described harmonical expression?
1908-1970
by Dr. C. George Boeree
Abraham Harold Maslow was born April 1, 1908 in Brooklyn, New York. He was the first of seven children born to his parents, who themselves were uneducated Jewish immigrants from Russia. His parents, hoping for the best for their children in the new world, pushed him hard for academic success. Not surprisingly, he became very lonely as a boy, and found his refuge in books.
What I had been working towards here in the pass couple of years is evidence by the archive to the right.
It has been a interestng experience trying as best I can to see where science was going. What was being held at the forefront of science knowledge, in regards to the theoretical idealizations, that were born to push insight, and perception deeper into the coming realities. The cognition of what might be borne in mind, that any emergence might have revealled of itself in the aspect of new geometries formed to consolidate all geometries that currenty exist?
What shall these be in the mind where cognition is born out of the reality about our being?
Surprizingly, as one learns about themself, the life experience seems to become clearer, as we progress along the "road of independance." Learning curves, that keep us so occupied, that the life's lesson might never seem ever finished, as we progress through one goal or another. Find, the mind flowing and growing. IT had a path which we might have never had known, had we not realized what it had amounted to in realization? It's work?
What could the intellect become if it held all it's intention to "abstract form" in mathematics, that it never found the associations it did and were needed in pushing into those deeper realities? There was a point it no longer worked, and such a place held in the microcosmic view, was still part of a much larger cosmological view? Can this not be so?
How can a speck of a universe be physically identical to the great expanse we view in the heavens above? (Greene, The Elegant Universe, pages 248-249).
Above it all, there were ideas in my mind that biased the way I talked and wrote, that I saw beyond what the intentions were about our participation into forging the reductionistic view, as some part of the greater whole? Why, I recognized the probelmatic koan( can I call it that) revealled in Brian Greene's wording that guided my thought process.
This was labelled as an liminocentruc structures, and within the context of this blogger experience of writing, I wrote about them historically, as a place visited, and as images that arise in mind, that could have represented aspects of our wholeness.
The mandala can also be an image of eternity cycling through time and as such images soul's and Nature's circular journeys, as they are reflected in, for example, the Native American Medicine Wheel, in seasonal, rebirth and karmic cycles, in mythic journeys of going out and returning changed to one's point of origin, and in the zodiacal wheel as life's twelve archetypal stages of personal growth.

This cyclic transformation is also at the heart of ancient Chinese meditation. When the spiritual light in the body moves through rhythmical breathing in a circle, all the opposite energies of heaven and earth, sun and moon, light and dark, are crystallised and form what the Chinese called the Golden Flower, an inner mandala imaging the balanced, open and centred heart.
Maybe, mandalic in origins, that such symbols revealled the deeper insight of the soul who had travelled and secured the "parcel of thought gained" as packages to be born in mind, to surface time and time again?
What use to loose our pursuates to self actualization, and immmediate recognitions of that peak experience, to have found Maslow had created a pyramid of a kind? It had already rested deeply in my own mind's creations, as a model formed. Can I progress his thoughts and his models mine. I most certainly can, and I have the history to prove this, as I incinuate from what is baised in my own views. My writing.
Who is Abraham Maslow, that such idealizations would amount to a psychological veiw I engaged in just the last couple of days or so, that I'd found some association too, model depictions, that I myself had created.
Consider this the base of the pyramid and the four faces, and what value this insight that such perfection could have arsien from Maslow's hierarchal renditions towards self actualization, that the lower centers of humanity would have been it's struggle in the heart, to have become actualized in the heart of mind, as a transcendance of thought, gained?
It was with some historical perspective that having spent years studing, that such model was produced. Which guided my own wording and thinking as I developed. Befuddle readers, as to the demands for a more clearer kind of writing.
Asked, if the most predominante language should be, I too had said math, but most will say english. I give my reasons why, for math, yet so inexperienced am I it's many forms:)
The archetype has no form of its own, but it acts as an "organizing principle" on the things we see or do. It works the way that instincts work in Freud's theory: At first, the baby just wants something to eat, without knowing what it wants. It has a rather indefinite yearning which, nevertheless, can be satisfied by some things and not by others. Later, with experience, the child begins to yearn for something more specific when it is hungry -- a bottle, a cookie, a broiled lobster, a slice of New York style pizza.

The archetype is like a black hole in space: You only know its there by how it draws matter and light to itself.
Less comprehensible no doubt, without out the reader having has some idea of where I was speaking from? No, not from some "other worldly" person like PLato, but an "archetype used" to progress the thoughts of many who had themself engaged in science, about the greater perception/inspiration, as we moved back from the Plato's Cave, to gain in light, about man's imprisonment. As we have "unchained the mind" from the links/matter that bind us.
So you might say what changed?
As I read some more on Maslow, I learnt about many things about my own mind that felt true, to what was being read. That I understand now, that the first part of the lesson about self and it's motivation with years of study, might had seen and been lost, had I not now concluded some thoughts about what I have gained in recognition about self? Time in perception about the past allows this recollection and reminincing now focused forward.
What could be added to Maslows hierarchal diagram of thinking mind and about the steps of progression had some kind of self actualization been bound in the determined mind of one who was not a conformist? To any degree, who liken the freedom to study outside all of the rules of engagement, was still very respectful of the halls of higher learning.
Engaging life as a father and husband, the early years and education did not ever reveal that I would be capable less than the man working ever with his hands and mind to be paid? That his family needed to be supported and growth accomplished as any child would in nurture. While amidst this, a experimentor, and philosopher, as student of life in father felt.
You had to be motivated( what kind of motivation is seeking, what is it's base), or why would you waste your time travelling through the idealizations we do encounter. Facing to see what modulation of thought might do in seeing anew? You had to rise above those lower centers. Such a climb, to the heart in mind(some might know of it's truth comparison in images shown here. Was part of the actualization process after attending class?
Alchemcial processes might have shown such step processes engaged in the process of purifying(psychological), as well as leading to the understanding of who the king was(ego) and how mastery would have been gained over?
Friday, April 07, 2006
The Structure of Consciousness
John Fudjack - September, 1999
By 'dilating' and 'expanding' the scope of our attention we not only discover that 'form is emptiness' (the donut has a hole), but also that 'emptiness is form' (objects precipitate out of the larger 'space') - to use Buddhist terminology. The emptiness that we arrive at by narrowing our focus on the innermost is identical to the emptiness that we arrive at by expanding our focus to the outermost. The 'infinitely large' is identical to the 'infinitesimally small'.
Liminocentric Structure
I wonder if I had related this piece of information that I had gained in my research would have been of benefit here for those who believe in the singularity? If it irrates the conscousness long enough, and hard enough, what will be released in the quiet moment that had been conducive to creativity flowing?

'The Princess & The Pea' from 'The Washerwoman's Child'

If you thought it "the pea" or some object so dense, well I have something else to consider when we see the dynamical way things collapse, and are reborn, to become the motivation let's say, for a inflationary new universe?
But it's more then that, if one considered Brian Greene's quote?
In fact, in the reciprocal language, these tiny circles are getting ever smaller as time goes by, since as R grows, 1/R shrinks. Now we seem to have really gone off the deep end. How can this possibly be true? How can a six-foot tall human being 'fit' inside such an unbelievably microscopic universe? How can a speck of a universe be physically identical to the great expanse we view in the heavens above? (Greene, The Elegant Universe, pages 248-249).
That statement in bold troubled me for a long time. There is an image I like to show that describes this breakthrough, not saying whether or not this is a type of enlightenment? I really don't know what that means I think.
In this metaphor, when we are seeing the donut as solid object in space, this is like ordinary everyday consciousness. When we see the donut and the hole at its center, this is like a stage of realization in which 'form' is recognized as 'empty'. When we zoom in extremely closely and inspect the 'emptiness' at the center, or zoom out an extreme distance away from the object and the donut seems to disappear and we have only empty space - this is like certain 'objectless' states of awareness that can occur in meditation. But the final goal is not to achieve the undifferentiated state itself; it is to come to the special perspective that allows us to continue to see all three aspects at once - the donut, the whole in the middle, and the space surrounding it - this is like the 'enlightened' state, in this analogy. 10 The innermost and outermost psychological 'space' (which is here a metaphor for 'concentrated attention' and 'diffused attention') are recognized as indeed the same, continuous.
Click on quote.
Tuesday, April 04, 2006
We understand that Alice is just part of the developing perspective we have about interactions? THis is consistant with Glast, as well as any calormetrical understanding, from an interaction?
That we had not explain the extra energy should still be held respective positions in mind if incoming and outcoming energy calculatins do not match? That left room in mirror world for other possibilities and had not explain all "sum over paths?"
Lubos
:
My understanding is that the very main point of his latest book, Hiding in the mirror, is to present the idea of extra dimensions as an essentially religious idea in order to diminish the credibility of the research of modern high-energy physics - because he knows that most of the readers are anti-religious.

Everyone who has ever worked in phenomenology or string theory knows very well that this research has nothing to do with religion. The link is an invention of Krauss' - one that is intended to politicize things and to encourage his readers to think about completely irrational relations between different ideas.
Foot, R., and S.N. Gninenko. 2000. Can the mirror world explain the ortho-positronium lifetime puzzle?
(belongs to another article words that follow within link)
Welcome to the mirror world, in which every particle in the known universe could have a counterpart. This cosmos would hold mirror planets, mirror stars, and even mirror life.
While Alice in Wonderland may be a fictional story and pervasive in terms of many paths taken, the consequence of the photon in this enviroment and under gravitational influences, is well understood I think?
Lubos's first paragraph quoted is a questionable one to me, "on character," as I have understood Krauss to be.
Startreking explanatory on the understanding of reality, to make sure we understand what is going on, as well as, explaining the idea's of scientists who write for the public, in the movie production scenario's?
Kip Thorne and Brian Greene?
Would the normal public understand the evolution of Abbott and flatland, or the develomment of non-euclidean geometries?
You have taken the word geocentrism in vain Lubos:)
As a "liminocentric structure" wholeness is important to me, not just as some circle, a sphere, or how a genus figure is move from one form to another, but that other things are happening as well, when this happens?
If it happens many times microscopically
will this have satisfied our viewing of Coleman de Luccia Instanton?
It's just another way of "toposeeing" is all" ( many microprocesses make for many new physics to emerge?), and as far I understand it, it is necessary back ground with which to develope a consistant picture of what is going on with our universe, macroscopically, as well as microscopically, continously? Wmap polarization is topolgical driven by perpective sound valuations, blendings so that sucha 2d pciture measured is much more dynamcially seen?
Yes I know, no one knows what geometry this is in the blackhole or what new physics will emerge, so we needed to look for this consistancy beyond the standard model?
How could one not attempt to join this with quantum and cosmological views?
This just may mean that "uncertainty" is encapsulated?
I am glad to have "information" that would maintain my current hold on reality, as I expand the brain's coverings.
As we project our "evolutionary mind in projective geometries" further into the strange world of high energy, as well as reducing to a weak field measure, some hope of a consistant picture.
Okay, I have not forgotten what string theory has already done in regards to bulk pespective:)
So the bulk perspective is "nothing," or does it act as a catelysct?
Sunday, March 12, 2006
One harmonious possibility is that string enthusiasts and loop quantum gravity aficionados are actually constructing the same theory, but from vastly different starting points-Page 490, Fabric of the Cosmos by Brian Greene

What would such gravitons in the bulk concentration mean, to those whose value might have seen sound expressed, as low and rumbling, while energy would have been freer to implement the expression of higher pitched notes?
Some might have never gotten the greater significance, or the relation to the Kernel of Truth, but hidden behind all the facades of humanities thoughts about sound, it was with the understdanding of Joseph Weber's work, that I too, became intrigued with the cylinder bars and sound.
In the late 1950s, Weber became intrigued by the relationship between gravitational theory and laboratory experiments. His book, General Relativity and Gravitational Radiation, was published in 1961, and his paper describing how to build a gravitational wave detector first appeared in 1969. Weber's first detector consisted of a freely suspended aluminium cylinder weighing a few tonnes. In the late 1960s and early 1970s, Weber announced that he had recorded simultaneous oscillations in detectors 1000 km apart, waves he believed originated from an astrophysical event. Many physicists were sceptical about the results, but these early experiments initiated research into gravitational waves that is still ongoing. Current gravitational wave experiments, such as the Laser Interferometer Gravitational Wave Observatory (LIGO) and Laser Interferometer Space Antenna (LISA), are descendants of Weber's original work.
Now what does sound mean in this case? How far shall we go back with Kip Thorne, or John Wheeler? Would a good scientist know that the roots of these thoughts about string theory began long before the mathematical struggles became known in current day thoughts. That the roots began in relativity, and what relativity means geometrically as a gravitational force in consideration?
It required a graduation in thinking. Views in the abstract spaces that were less then understood, that without understanding how such thoughts lead from the classical world, would now move perspectve to it's strengths and weakeness as part of a larger view established from the standard model and beyond. It had to include all the fundamental forces and ultimately it's carriers?
The activity in string theory and quantum gravity is aimed at developing a quantum theory that incorporates the physics of gravity and is valid down to the smallest length scales, where conventional quantum field theory can no longer be applied. There has been rapid progress in this area in recent years, in part due to work of Princeton faculty and students, and it continues to be a fertile source of research problems.
Would These good scientists might have forgotten maybe, or because of the failure of Joesph Webers experiments, the very ideas of LIGO today, would not support the greater depth of seeing? In ways such structures would ring with the gravitational expansion and contraction, and allocated sound value in analogy? What use?
Might I have missed the nature of the bubble in geometric views, as we looked at the
sonofusion idea manifested
in the way that "time and the bubble's membrane," elastic in it's measure, might have symbolized a larger global view of all the things that it would contained within it. Even, it's magnetic field?
So some were better equiped to see spheres whithin spheres, and all bubble membranes as some topological derivation of Sklars's quandry of what line is a 5 or 1, in relation to the torus. How diffiuclt to undertand that then, inner bubble/line might have encapsulated the expression of Maxwell and all the equations, as being defined within the context of General Relativity and it's completion, as th eenvelope on the outer sphere called earth in space. Some might never have resolved such thinking to sucha bumpy world but it does indeed happen. Not only there, but in how such energies would have made themselves known as we turned this inside out, like some Klein bottled?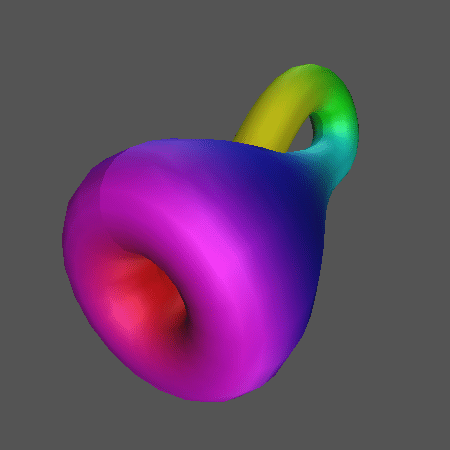 I know I have much to learn in the
geometrical perspective,
but I am trying.
Recognition of a Sphere that is Not so Round
Gravity is the force that pulls two masses together.

Since the earth has varied features such as mountains, valleys, and underground caverns, the mass is not evenly distributed around the globe. The "lumps" observed in the Earth's gravitational field result from an uneven distribution of mass inside the Earth. The GRACE mission will give us a global map of Earth's gravity and how it changes as the mass distribution shifts. The two satellites will provide scientists from all over the world with an efficient and cost-effective way to map the Earth's gravity field.

The primary goal of the GRACE mission is to map the Earth's gravity field more accurately than has ever been done before. You might ask, how will GRACE do this? Two identical spacecraft will fly about 200 kilometers apart. As the two GRACE satellites orbit the Earth they are pulled by areas of higher or lower gravity and will move in relation to each other. The satellites are located by GPS and the distance between them is measured by microwave signals. The two satellites do not just carry science instruments, they become the science instrument. When mass moves from place to place within the Earth's atmosphere, ocean, land or frozen surface (the "cryosphere"), the gravity field changes.
So while I was quite aware of what the earth contained in it's views as a planet on which we live, it was not without some understanding that such mass considerations woul have also included the "view of bubbles"? AS rings around this planet.
The way in which they can work to help push perspective inside/out? Is this wrong? Can no undertanding that leads to electrognagnetsm and gravity joined in the fifth dimensional perspective, lead to the dynamcial understanding of nature in accordance with the spacetime fabric and it's orientations?
Why then lagrange coordinates, and how we see the "hole in space" as satelittes that might choose the most easiest route to travel and least fuel to burn? What say the equillibrium status, had not been reached in the blackhle interior, as a anomlie of perception, in regards to the formation of the superfluid through such collidial events?